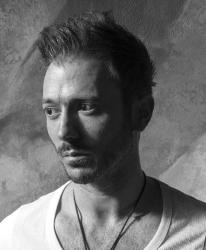 Harrods is delighted to announce that on 11 th May 2015, Michelin-starred Ollie Dabbous joins  its much-celebrated Food Halls as guest chef for the store's ongoing foodie campaign, Chef of  the Season.
For eight weeks, the founder of Fitzrovia's Michelin star Dabbous will offer an exclusive selection of dishes-to-go inspired by the restaurant's signature dishes. The range will be presented in his owndedicated area within the traiteur counter of the Food Halls.
An ode to Dabbous' love of innovative modern European cuisine, customers will have the choice of starters, mains, side and desserts,as well as the restaurant's signature Verbena lemonade. Mains include cured goose with fenugreek; salad of fennel, pollen, lemon balm & pickled rose petals and barbecued octopus with toasted buckwheat, charred brassicas and virgin rapeseed dressing. Desserts include Canales cooked in beeswax, cigar leaf caramel "BB" chocolates and a banana and custard pie.
"The dishes I've created for Harrods are stylistically aligned with my restaurant, but with a bit more comfort and accessibility. It's summer, so I've gone for a mix of cold foods, salads and baked goods with a simple, light feel where you can taste all the ingredients.
So there's a fennel salad with lemon balm and pickled rose petals, and a rabbit pie with spring vegetables, seasoned with fenugreek."
Director of Food, Bruce Langlands adds, "Harrods continues to strive to work with some of the best chefs in the industry and our forthcoming partnership with Ollie further cements this – a truly talented chef, Ollie will bring spice, authenticity and innovation to the Harrods Food Halls from this May."
Ollie has worked in leading fine dining restaurants for more than a decade, working under the likes of Raymond Blanc and Andoni Luis Aduriz. An innovative style and creative interpretation of modern European  cuisine have seen Dabbous become one of the UK's most acclaimed chefs with an inspiring Michelin star.