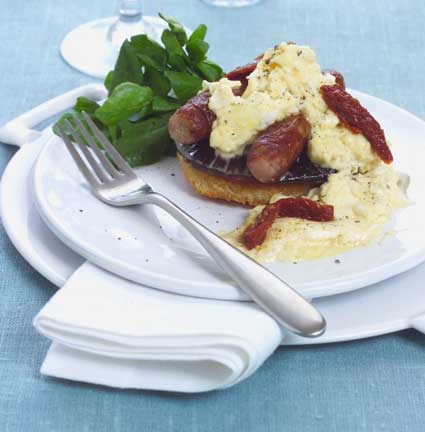 A breakfast dish or light lunch. Big flat mushrooms are perched on a croûte, topped with delectably browned Porkinson Bangers, and finished with creamy scrambled eggs and sunblush tomatoes
Ingredients
6 x The Porkinson Bangers in either of the four flavours (Original, Oxford, Suffolk Ale & Herb or English Sage & Onion)
2 tbsp oil
4 slices white bread
4 tbsp sunflower oil
4 large flat mushrooms, wiped, stalks removed
8 x eggs
100ml/4fl oz double cream
Water
25g butter
8 strips sundried tomato
Cracked black pepper
Salt and freshly ground black pepper
Watercress for serving
Heat the oil in a pan and fry the Porkinson Bangers over medium heat to brown all over and cook through. Remove from the heat and keep warm.
Cut circles from the white bread using a coffee saucer as a template. Fry on both sides in 2 tbsp of oil to brown and crisp. Keep warm. Wipe the mushrooms and fry on both sides in the remaining oil, season with salt and freshly ground black pepper. Keep warm.
Beat the eggs lightly with cream and a splash of water. Season with salt and freshly ground black pepper. Heat the butter in a pan over a low heat and add the egg mixture to the pan. Cook gently, stirring all the time until just about to set – the eggs will carry on cooking after being removed from heat.
Place the croûtes on a plate, top with the mushrooms, then the sausages and finish with the scrambled eggs and a few strips of sunblush tomato. Sprinkle with cracked black pepper and serve with watercress.
Serves 4