Get together with your favourite people this summer and host a tea party in aid of Breast Cancer Care. The charity's Strawberry Tea campaign, sponsored by Seasonal Berries – representing the strawberry growers ofBritain – runs from 1 June to 31 August and raises money to support the 50,000 people who are diagnosed with breast cancer every year in the UK.
A Strawberry Tea can be held anywhere, anytime – where will you hold yours?
Register now for a free Strawberry Tea fundraising pack full of ideas and tips to make your event the highlight of the summer.
Visit www.breastcancercare.org.uk/strawberry or call 0870 164 9422.
All recipes courtesy of www.seasonalberries.co.uk
Glazed Strawberry Tarts with Elderflower Cream
These dainty tarts have been topped with sliced strawberries but you may like to top with different fruits, so perhaps decorate 4 with strawberries, 4 with raspberries and the remainder with blueberries or try with a mix of different fruits, leaving the smaller fruits whole.
Makes 12
Preparation time: 30 minutes
Cooking time: 15 minutes
Pastry
225g/8oz plain flour
50g/2oz icing sugar
100g/4oz butter, diced
2 egg yolks
Filling
200ml/7fl oz double cream
25g/1oz icing sugar
2 tbsp elderflower cordial
400g/14oz strawberries, sliced
75g/3oz redcurrant jelly
To make the pastry, put the flour into a bowl, add the icing sugar and butter then rub in the butter with fingertips or an electric mixer until it resembles fine crumbs. Stir in the egg yolk then squeeze together with fingertips to make a dough, adding a little water if needed.Knead lightly then roll out thinly on a lightly floured surface. Cut out 10cm/4in circles using a large biscuit cutter then press circles into buttered sections of a 12 hole deep muffin tin. Prick bases with a fork and chill for 15 minutes. Line each tart with a circle of greaseproof paper and some dried lentils or baking beans and bake blind in a preheated oven set to 190°C/gas mark 5 for 10 minutes, remove paper and lentils or beans and cook for 3-4 minutes until pale golden. Leave to cool.
Remove pastry cases from the tin, arrange on a serving plate. Whip the cream with the icing sugar and elderflower cordial until it forms soft swirls. Spoon into the tart cases. Arrange the strawberries on top. Warm the redcurrant jelly in a small saucepan until melted then brush over the tarts. Serve within 30 minutes of decorating.
Strawberry Jellies
There are moments when all you crave is something extra light after a filling main course. These jellies can be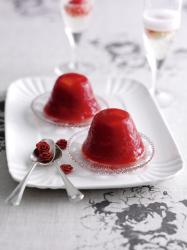 made ahead for an impressive dessert.
Serves 6
Preparation time: 25 minutes
Cooking time: 5 minutes
Chilling time: 4 hours
625g (1 lb 6 oz) strawberries
50 g (2 oz) caster sugar
120 ml (4 fl oz) water plus 4 tablespoons
3 teaspoons powdered gelatine
1 lemon, juice only
Red sugar flowers or tiny heart shaped cake decorations, optional
Slice 400 g (14 oz) of the strawberries and add to a saucepan with the sugar and 120 ml (4 fl oz) water, cover and cook gently for 5 minutes until the fruit is softened. Meanwhile put the remaining 4 tablespoons of water into a small heatproof bowl, sprinkle over the gelatine so that the powder is completely absorbed by the water then leave to soak for 5 minutes.
Puree the cooked strawberries and their juice in a liquidiser then press through a sieve and discard the seeds. Heat the bowl of gelatine in a small saucepan of gently simmering water until it forms a clear liquid. Gradually stir the gelatine into the fruit puree then mix in the lemon juice and leave to cool. Slice the remaining strawberries or chop if large, stir into jelly mixture then pour into 6 x 150 ml (¼ pint) individual moulds or one large dish. Stand moulds or dish on a baking tray then chill in the fridge for 4 hours or until set.
To serve dip each mould in hot water and count to 10, take out of the water, loosen the edge of the jelly with a wetted finger, invert mould on to a serving plate, holding mould and plate, jerk to release, remove mould and repeat with other moulds. Decorate with tiny sugar flowers or hearts and serve with a little cream or custard.
Strawberry Ice Cream
A great dessert to serve after a summer barbecue. You don't have to be a child to love eating an ice cream cone – dip shop bought waffle cones in melted chocolate and chopped nuts or sugar sprinkles then fill with scoops of creamy homemade ice cream.
Serves 8
Preparation time: 30 minutes
Cooking time: 5 minutes
Freezing time: 6-7 hours
4 egg yolks
100g/4oz caster sugar
1 teaspoon cornflour
300 ml/ ½ pint full fat milk
1 teaspoon vanilla essence
500g/1lb 2 oz fresh strawberries, hulled
300ml/ ½ pint whipping cream
8 waffle cones
50g/2oz white chocolate
50g/2 oz pistachio nuts, roughly chopped
50g/2oz dark chocolate
Whisk the egg yolks with the sugar and cornflour until thick and pale. Pour the milk into a medium saucepan and bring just to the boil. Gradually whisk into the egg yolk mixture until smooth then return to the pan. Cook over a low heat, stirring until the custard thickens and just coats the back of the wooden spoon. Be careful not to overheat or the custard will curdle. Stir in the vanilla essence then sprinkle the surface of the custard with a little sugar or a piece of crumpled and dampened greaseproof paper to stop a skin forming; then leave to cool.
Puree the strawberries in a food processor or liquidiser, in batches if needed, until smooth. Press through a sieve into a bowl, discarding the seeds.Whip the cream until it resembles thick batter then mix with the custard. Fold in the strawberry puree. Pour into a freezer proof container and freeze for 6-7 hours until firm enough to scoop, beating two or three times with a fork to break up the ice crystals. For the cones, break the white chocolate into pieces and melt in a small bowl set over a small saucepan of gently simmering water. Put the nuts on to a small plate. Dip the tips of four of the cones into the melted chocolate then the nuts. Stand upright in a glass bowl to set. Melt the dark chocolate in the same way then dip in the nuts and leave to set.
When ready to serve, allow the ice cream to soften at room temperature and scoop into the cones. Tip: If you have an electric ice cream machine, there is no need to whip the cream first just mix with the cooled custard and strawberry puree and pour straight into the pre-cooled machine. Churn for about 30-40 minutes or until firm enough to scoop, or transfer to a plastic container and freeze until required. If you're short of time, then use 400g/14oz of readymade luxury chilled vanilla custard from the supermarket.