Strada Provinciale per Torrechiara, 45A – 43010 Pilastro PR Italy –
www.masticabrodo.com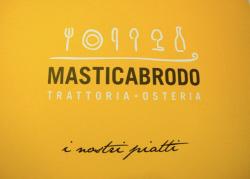 The problem with writing about Italian food in Italy, is that most of the time I get so blotted I can barely remember my own grandmother's name, let alone what delights I've put in my mouth. From the crimson, blotched stains on my clothing I can tell you that Amarone or Valpolicella was a part of the event. Maybe Chianti too. The evening likely finished with a Grappa and someone rolling me out into the balmy night.
With this in mind I decided to visit Trattoria Masticabrodo, a forty-five minute drive from Parma, for lunch. This way I could stretch the plates over the course of an afternoon and leave with the early-evening sun still in the sky.
This small trattoria is quietly placed off the main road, in the shadow of the Castle of Torrechiara (off Strada Provinciale per Torrechiar). Inside the medieval farmhouse is a small dining room with dark, wooden furnishing and freshly-ironed white-cloth tables. It's typical of small, family-run trattorias and bàcaros, where the emphasis is placed on the food and diner, rather than how shiny the features are.
The menu is short and simple, playing to their strengths. It follows the seasons and uses the raw, local materials for antipasti and charcuterie: Prosciutto di Parma, Salame Felino and Piacenza bacon. Anolini and homemade ravioli is a staple and prepared to order. Half-a-dozen pasta pouches are stuffed with anolini and finished with sea salt, olive oil and Parmesan shavings. Everything is wholesome and broadly authentic of the region.
A second plate of brilliant pasta was served with porcini and plenty of Parmigiano-Reggiano. It was the right side of el dente and piping hot; unfussy yet perfectly executed. It was one of those straightforward dishes showcasing the bare ingredients. The addition of any other ingredient would have been a step too far. If you're going to send someone to therapy, send them this instead. It's true comfort food.
The highest compliment I can give the chef is that no ingredient or dish is over-complicated. He lets simplicity rule. When quality Parmigiano and Prosciutto is native to your region and widely available, what's the point in being complicated? Rushed, exaggerated plates are a common affliction of Italian restaurants (of which there are very few of quality in London), when all that is required is to let the ingredients show-off singularly.
And because we're in Parma, plates of antipasti arrived piled with crumbling cubes of Parmesan and slivers of Prosciutto; salty, fatty and greasing my fingers. I must have consumed the hind legs of of at least two Italian piggies.
The strange thing is, none of this is unusual. There are plenty of places dotted about the Italian countryside where you can find regional flavourings celebrated and put to work. And what's more you won't see any old humdrum bolognaise or a crisped-calzone in sight; no bought-in pizzas, creamy carbonaras or utility hams wrapped around breadsticks, just regional produce welded spectacularly
A few bottles of local Lambrusco (Corale 'G. Verdi") were knocked back. It's a sparkling wine I've never had much time for, one I've always bracketed with Babycham and Asti Spumante, but done properly it's a quality alternative to the bolder reds. Dangerously easy to guzzle with fruity sparks and a deep red colouring.
As I near the end of lunch, Grandma appears from the kitchen to clear away the plates and offer desserts and coffee. My crème brûlée was rich and creamy, with far too much brown sugar fused on top. The caramelization had gone beyond sweet and into gritty crystal. Reports on the lemon sorbets were good, scooped generously into a flared sundae glass, it was noted as 'bitter" and 'soothing".
Out in the middle of the Italian countryside, there's no one to impress; no tourists or rubberneckers to rip-off. The food is fresh, regional and sentimental, made by people who care deeply in what they do. It's food you want to eat, the food of home.