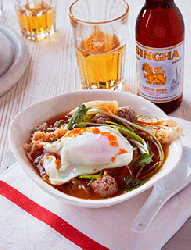 Andy Oliver is the co-founder and head chef of East London's authentic Thai restaurant Som Saa, which will only be around for another month- just last week Som Saa raised £700,000 in crowd funding to set up a more permanent restaurant, so it's the perfect time to grab his recipes.
Andy is currently in partnership with Singha Beer to create a range of mouth watering recipes that demonstrate the authentic taste of Thailand, which you will see below.
This is great way to start the day, Thai style.  It's comforting and really flavorful.  Have extra chilli powder, soy sauce and white pepper on hand so you can customise your own bowl
Serves 2 Preparation time: 25 minutes
Ready in: 15 minutes
Pork balls
200g of pork mince
2 garlic clove
Pinch white pepper
1 tsp chopped coriander root, or stalk
2 tsp light soy
1 tsp oyster sauce
Soup 2 cups cooked jasmine rice
500ml light chicken stock
3 tbsp light soy sauce
2 tbsp oyster sauce
Pinch ground white pepper
Pinch Maldon sea salt
Pinch caster sugar
5 cloves garlic (to make the deep-fried garlic oil (see method))
Small handful Chinese (or if you can't find Chinese you could use hispy cabbage), cut into bite sized chunks
2 free range eggs
Garnish
1 tbsp of deep-fried garlic oil
1 tbsp ginger cut en julienne (fine batons)
2 spring onions sliced finely
A few picked coriander leaves
A small pinch of roasted chili powder
Method
First make the fried garlic in oil – pound 5 garlic cloves in a pestle and mortar until a fairly fine paste (or finely chop) then fry in 5 tablespoons of plain oil until golden, drain the garlic reserving the oil.  When the oil has cooled, return the garlic.  This will keep for two weeks in a sealed container.
Now the pork balls – pound together the garlic, coriander roots and white pepper into fine paste.  Mix this paste with the pork mince adding in the soy sauce and oyster sauce.  Knead the pork for 1-2 minutes to encourage the springy texture.  Roll into balls roughly one inch in diameter, and then poach in simmering water for 5 minutes or until cooked (take one out and cut in half to check).  Set aside. 
Bring a pan of the chicken stock to a simmer and add the cooked rice and cabbage and continue to slowly simmer – the soup will start to thicken as the starch comes out of the rice.
Add the white pepper, light soy, oyster sauce, sugar and salt.  Now add the pork balls and gently crack in the two eggs, allowing them to poach in the soup.  When the eggs are cooked but still soft you are ready to serve. 
Serve the soup by gently ladling a portion of soup into each bowl, getting one egg and half the pork balls.  Garnish with the ginger, spring onions, chilli powder, coriander and a teaspoon of the garlic oil.