Looking for a quick midweek supper for the family? This delicious spicy fish dish couldn't be simpler, with WORLDFOODS sauce doing all the hard work for you.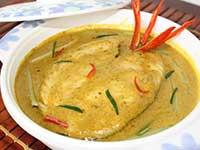 Ingredients
1 jar (340g) WORLDFOODS Thai Yellow Curry Sauce
340g (12.1oz) Fish Fillet, cut into chunks
170g (6oz) Tomatoes, cut into chunks
1 tsp Lime Juice 
Garnishing:
1 Red Chilli, sliced
2 tbsp Coriander Leaves, chopped
Cooking Instructions
Pour the curry sauce into a saucepan and heat gently for about 5 minutes.
Then add in the fish and simmer over low heat for a further 5 – 7 minutes, finally add in the tomatoes and heat for a further 2 minutes.
Before serving, sprinkle with lime juice and garnish with chilli and coriander leaves.
For an authentic Fusion & Asian cooking experience in your own home, you can buy WORLDFOODS sauces direct
All Foodepedia readers can take advantage of an EXCLUSIVE free shipping code on all products, please use: V2T9QF63