Let's get one thing straight. I've never been to Venice and the closest I've been to cicchetti before is eating my way through Polpo's menu while sandwiched between Hermione Crawford and Oliver Franklin and, while geographically it was closer to Piccadilly Circus than the Piazza Del Marco, it all tasted pretty authentically Italian to me.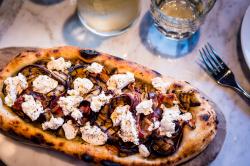 But when I read that the Evening Standard's Faye Maschler had waxed lyrical about the scallops on offer at TOZI – the Park Plaza Hotel's main restaurant in Victoria – claiming that they were as good as any she'd sampled in Venice, my curiosity was piqued.
There's nothing chi chi or rustic abou the setting of TOZI. Walking through the giant entrance doors, the setting is as slick and cavernous as you'd expect a modern, central London hotel restaurant to be. Consisting of one, wide room, it's all huge windows and echoing, open-plan eating, but this contemporary joint is far from clinical. TOZI has a fleet of personable, suave waiters that glide around the split-level dining room, a perimeter of food prep stations complete with piles of burnished ciabatta and hanging haunches of cured meat and the flickering flames of a wood-oven (that's actually as I discovered, ahem, gas-powered).
The menu is a long list of sharing plates, split into sections spanning everything from wood oven dishes and fritti to pasta and counter dishes like meat and cheese. It's often daunting to start ordering plates for two when you don't quite know the eating habits of your fellow diner and there's always the threat of a table-full of wall-to-wall meat dishes or six servings of salad.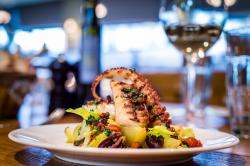 Luckily for me I was dining with Mr. H and my and the Foodepedia bossman's taste buds dance to the beat of the same drum. Our italian feasting banquet started flowing with tomato smeared pizzetti topped with mozzarella, and slivers of highly-flavoured salami piccante; fried baby soft shell crabs dripping with olive oil and scattered with red chillis and violently green parsley sauce; petal-thin folds of Coppa marbled with fine veins of white fat; berry-stained hunks of cheese and delicate pasta puffs, all washed down by a full-blooded burgundy-hued Barbera, which was recommended by the waiter and that swept me half way to The Rialto with the words of Italian-loving Keats ringing in my ears.
O for a beaker full of the warm South!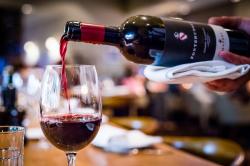 Full of the true, the blushful Hippocrene, 
With beaded bubbles winking at the brim,
And purple-stainèd mouth
The Testun al Barolo – cow's cheese aged in Barolo grapes – was exceptional, as were the much-feted gratinated scallops…although I must admit that it was the thought of my commute back over the murky waters of the Thames and Vauxhall Bridge rather than a gondola ride through the Venetian waterways that was at the forefront of my mind while I ate them.
For both of us, the dish of the day was indisputably the house speciality: buffalo ricotta ravioli with black truffle. There's nothing I hate more than a dish that promises truffles and delivers a pointless drizzle. This dish of soft, golden pillows of perfectly-cooked pasta with a feather-light filling that arrived swimming in a bowl of butter had an eye-bogglingly generous heap of shaved black truffles balancing on top. Bellisimo.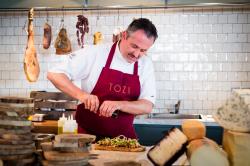 I was all proverbially packed and ready to be shipped to Canal Grande when I came back down to earth with a jolt at the arrival of dessert. Mr. H's affogato was perfectly passable but the ricotta tart with blood orange sorbet that I plumped for was bitterly disappointing. After the flavour jaunt around Italy that came before it, the flabby pastry and nicely sweet and soured, but frankly mealy interior, came as a shock to my mellowed pallette. luckily it was redeemed by a brilliant, softly-perfumed orange sorbet, but the disappointment sadly still lingered a little.