With an ingredients list as long as your arm, not to mention a good dash of pomp and circumstance, we proudly present to you The Ritz's Executive Chef's Christmas pudding recipe. With a three-month maturation period, we'd recommend you either get a head start on next year or give'em as Christmas presents to be enjoyed in 2014. A little delayed gratification never hurt anyone!
John Williams' The Ritz Christmas Pudding
Serves 10
Ingredients: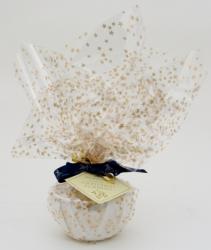 50g oranges, zest and juice
35g lemons, zest and juice
85g flour
35g ground almonds
120g breadcrumbs
85g brown sugar
200g sultanas
200g currants
200g raisins
40g glacé cherries, chopped
40g mixed cut peel
50g prunes, chopped
70g cooking apples, chopped
45g carrots, grated
14g salt
2g mixed spice
2g nutmeg
10g crystallised ginger
2 g cinnamon
15ml golden syrup
7ml Cognac
26ml Guinness
23ml bitter beer
7ml Madeira
7ml sherry
10ml rum
15ml milk
1 egg
13g suet
Method:
Place all the dry ingredients together in a large bowl, ensuring all of the dried fruit is cut into even-sized pieces.
Mix the chopped cooking apples, grated carrots, orange juice and lemon juice thoroughly with the syrup, cognac, alcohol, milk and eggs.
Slowly fold the wet ingredients into the dry ingredients, ensuring nothing is crushed.
Pour the mixture into a clean tub and leave at room temperature for approximately 3 days, or until it begins to ferment.
When the mixture starts to ferment, put it into a pudding basin lined with greaseproof paper and seal with a lid.
Store in a fridge for one more day.
Cook the pudding in a steamer for approximately 1 hour 45 minutes.
Allow to cool, then store in a cool cupboard for a minimum of three months.
To serve, steam for 1 hour 45 minutes, flame, and eat accompanied by plenty of brandy butter.
Ready-made 'The Ritz' Christmas Puddings will be sold exclusively by the Christmas Concierge at The Ritz and are available to residents and non-residents alike at £35 per pudding. Each one is individually numbered, tagged and gift-wrapped.