Steve Gadd from The Rookery at Clapham Common likes a pie – this excellent English example will have you pie-eyed this St George's Day.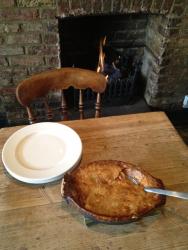 Ingredients:
For the crust:
250g self-raising flour
1 tsp salt
125g suet
150ml water
For the filling:
4 onions
4 carrots
4 sticks celery
6 cloves garlic, crushed
1/2 bunch fresh tarragon
1/2 bunch fresh thyme
1 tbsp dried chilli flakes
1 tbsp fennel seeds 
1/2 tbsp ground black pepper
1/2 tbsp coriander seeds
salt, sugar and vinegar to season
2 whole English rabbits
500g tinned tomatoes
500g chicken stock
100g good-quality smoked bacon
50g flour
Method:
For the pastry:
Combine all the ingredients in a bowl and mix well. Clingfilm the bowl and refrigerate until required.
For the filling:
Peel all the vegetables – slice half of them and sweat down in a pan with the garlic.
Once cooked down, add all the herbs and spices – cook the rawness out of the spices for a few minutes then add the tomatoes and stock.
Allow to bubble away for 20 minutes or so and then season with salt, a little sugar and vinegar 
While the sauce cooks, butcher the rabbits – take the legs and shoulders off then cut the main body into 4 and discard the head.
Season the meat and add to sauce.
Bring up to the boil and then turn down to a very slow simmer.
Allow to slowly braise for 4-5 hours or until the rabbit falls off the bone. Cool.
Remove the meat from the sauce and strip from the bones. Place the meat in a bowl with enough stock just to stop the rabbit drying out.
Strain the sauce and return to the pan to reduce by a third. 
Dice and caramelise the bacon. Add the bacon to the reserved rabbit meat.
Dice the remaining vegetables and sweat off in the bacon fat.
Add the flour, cook out for few minutes, then add the reduced sauce.
Add the bacon and the rabbit back into the sauce.
To assemble and cook the pie:
Preheat the oven to 200C.
Place the mix into a heavy bottomed pan – Le Creuset-type is perfect.
Roll out the chilled, rested pastry to 1cm in thickness and place on top of the pan to cover fully.
Glaze the top with beaten egg.
Bake at 200C for 10 minutes, then turn down the temperature to 165C for 20 minutes.
Ensure the top is golden brown and the pie is piping hot.
Serve with seasoned greens.