This fresh, summer recipe is quick and easy to make and better still, is created with Baxters new, pre-diced salad beets which has just launched  – making salad prep faster and more convenient than ever before.
(serves 2)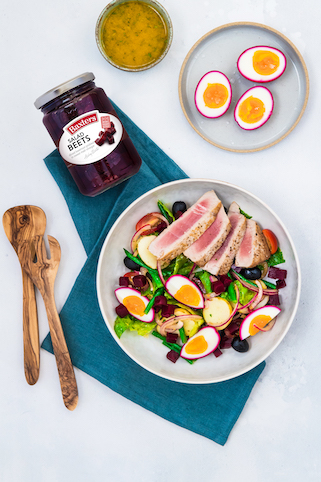 Ingredients:
2 x tuna steaks
200g x baby potatoes
150g x green beans
1 x red onion
1 x large cos lettuce
100g x Cherry Tomatoes
50g x Black Olives
1 x Jar Baxters Salad Beets
4 x eggs
25ml x white wine vinegar
75ml x olive oil
1tsp x French Mustard
10g x Parsley
Method:
· Place a small pan of water on the boil. Once boiling, add the eggs and cook for 7 minutes.
· Remove from pan and shell as soon as they are cool enough to handle.
· Drain the Baxters Salad Beets retaining the liquid. Put the liquid back into the empty jar and pop in the eggs. Set aside.
· Top and tail the beans and cook for 1 minute in boiling water. Place into cold water to stop the cooking process. Drain and set aside.
· Slice and cook the potatoes until soft. Allow to cool.
· Slice onions and halve the tomatoes.
· To make the dressing, whisk the oil, vinegar and mustard. Season and add the parsley.
· Mix the lettuce, onion, potato, tomato, green beans, olives and salad beets in a bowl and dress with the dressing.
· Divide between 4 serving bowls.
· Cook the tuna in a very hot frying pan for 1-2 minutes on each side.
· Slice and divide between the bowls.
· Remove the eggs from the vinegar and quarter. Finish the salad with the eggs and serve.