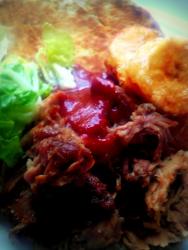 A few weekends ago, I was in the Boiler House Food Hall on Brick lane and had my first taste of Venezuela…and it was good! I probed the stall owner for the recipe for his outstanding slow cooked orange pork, but a reticence to divulge a family secret meant I walked away empty handed. So, I had to invent this recipe from the flavours I could discern from the original. The addition of Plantain Yo-Yos is a fun South American classic I had always wanted to try, and herby flatbread is an old favourite of mine. Give this recipe a try, or alternatively get down Brick Lane. If you manage to wrestle the recipe from the stoic stall owner, tweet Foodepedia. Please!
Ingredients for the Pork:
Dry ingredients:
1 x good quality pork shoulder 2 x tablespoons dark muscavado sugar 1 x tablespoon salt 2 x sprigs of rosemary 7/8 x cloves of garlic 1 x chilli chopped 1 x red onion (chopped) 1 x tablespoon dried parsley Pepper Marinade:
4 x tablespoons balsamic vinegar Juice of 2 Oranges 3 x tablespoons soy sauce 1 x tablespoons dried oregano 3 x bay leaves 1 x Stick of cinnamon 4 x tablespoons of olive oil
Method: Prepping the pork: 1. Rub all of the dry ingredients above into the pork and transfer to a large plastic bag.
2. Combine the marinade ingredients and pour over the pork in the bag and leave for 5 or 6 hours or, ideally, overnight.
To cook:
1. Preheat oven to 170 C 2. Wrap the pork in foil and roast for three hours. 3. Remove the foil and continue to cook for another hour or so, make sure all of the marinade is in with the pork. Cook until the pork is meltingly tender and can be "pulled" with a fork. 4. Serve piled up, and with plenty of the juices spooned over the meat. 5. Tip: Add a little ketchup to some of the juices to make a nice additional condiment.
For the Flatbreads
Roughly 3 parts White Flour
Roughly 1 part Water
1 x teaspoons Baking powder
1 x tablespoon of olive oil
salt and pepper
Oregano and dried parsley.
Method:
1) Combine all ingredients into a dough and knead for a few minutes 2) Flatten and pull the dough into flat pitta bread sized portions 3)In a large pan heat a very small amount of olive oil until it is very hot and fry the flatbreads on both sides until they are bubbly, crusty and hot.
For the Plantain Yo-Yos
1 x plantain sliced into rounds
1 x beaten egg
White flour
Philadelphia spread
Vegetable oil (for deep frying)
Method:
1. Spread a little Philly on a plantain "coin" add a little seasoning and sandwich between a second plantain coin. (Same principle as an oreo)
2. Dip the plantain "oreo" in flour so it is lightly covered
3. Dip the coated plantain in the beaten egg
4. Deep fry in vegetable oil for 4 minutes, remove and drain excess fat onto kitchen towel.