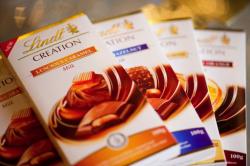 It's graphic art. That's my excuse and I'm sticking to it. Metallic gold leaf, once adorning my chocolate martini, is now sticking firmly to my red lipstick. It's anything but subtle, as several of my compatriots have pointed out. Cocoa loco, indeed.
Rather like Lindt's master chocolatier, Stephan- a bit of a character, to put it mildly. An avid collector of chocolate bar wrappers from a tender age, the man is quite simply over the moon with his lot. He maintains that his mentors always maintained, 'Chocolate won't make you fat, just happy'- and Stephan's slight build and broad grin is living proof.
Born in Zurich, the 35 year-old claims to have had his calling at the age of 5. By the time he was 8, a local museum had acquired the tot's prized collection of wrappers for an exhibit; and by the time he hit his mid-teens, he was embarking on his training as a chocolatier. A Diploma in Food Technology followed- but it was always chocolate that flowed through Stephan's veins.
An obsession with perfection and sensory experience made him the perfect candidate for the prestigious role of Lindt's master chocolatier. Stephan reveals that those famous gold bunnies vary in taste profile throughout Europe, and that the caramels preferred by neighbouring states can be dramatically different.
Luckily, he delights in the tireless quest required to deliver each and every consumer their personal chocolate nirvana. When it came to his favourite hazelnuts, Stephan sampled his way gaily through he 45 varieties grown in the UK, roasted to some 20 different levels. The chosen nuts are roasted weekly, ensuring those in your bar are roasty, toasty and, above all, fresh.
Lindt's famously silken mouthfeel is achieved though a carefully controlled conch- the procedure the company pioneered in 1845 in order to remove the gritty experience of eating most chocolate at the time. All the chocolate goes 'bean to bar' under one roof, ensuring the quality is maintained throughout the processing.
Product innovation is constant- with the company tantalising and challenging consumers with wasabi or sea-salt infused bars. The latest offering is the 'Creation' range of filled bars- each fat segment oozing caramel, praline or orange ganache. All perfectly noshable, but Stephan has a challenge- what's our own personal Creation?
Into my empty hull of Lindt milk chocolate goes a messily-piped melange of caramelized pistachios, almonds, hazelnuts and cappuccino crisp, bound with warm, liquid vanilla ganache. Once it's full to the brim, the remainder is piped into my gob until I'm in the same state. Stephan is the absolute antitheses of the disapproving tutor- rushing off for teaspoons to better facilitate the digging in.
A sticky label identifies my Creation, whilst sticky hands identify the fact I'm no master chocolatier. I know what I like, though, and, when the bar is delivered to my door a few days later, I'm not the only one. In fact, I'm lucky to snarf a couple of squares before the rest disappears into a smile as broad as Stephan's own. My chocolate's certainly made someone happy- but, for taking it, I hope they get fat, too.
Lindt Creation bars are available in milk chocolate with hazelnut; vanilla caramel; and caramel; and dark chocolate with orange varieties. Purchase from good retailers with an RRP of £1.99. For the full range, visit www.lindt.co.uk