On July 14, Harrod's launched their brand new candy store, located inside the Toy Kingdom on the third floor of London's iconic shopping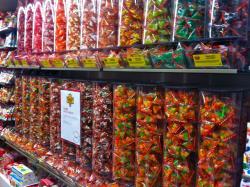 destination. If your nose doesn't lead you there, just follow the yellow-bulbs literally lighting the way. Stands and centrepieces packed with colourful displays beckon and row and after row of brightly boxed sweeties make the new space to resist.
Themed around the circus, Harrod's VIP launch on Sunday was called Circque du Sweet to tie in with the store's own brand of sweets which really did steal the show. With rainbow coloured vintage designs, the packaging of the new line contributes to its appeal, but its the execution of the chocolates and lollies that really hits the spot. The chocolatiers at Harrod's have tapped into the Wonker-spirit and created chocolates that are moulded and coloured in all kinds of shapes and sizes from children's building blocks to miniature Simpsons-style doughnuts and petite cupcakes. There are chocolate bears and colourful cookies, lollypops and retro sweets including UFOs, marshmallow hearts and fire-breathing fizzy sour favourites.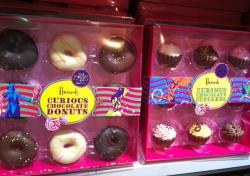 The walls are lined with rainbow displays of Jelly Belly beans, Papabubble hard candy and a select range of vintage sweets like fizzers, sours, bootstraps and bon bons. At Sunday's launch there were VIPs everywhere, getting their kids photographed with Moshi Monsters, robots and other characters that I didn't recognise. Staff were swanning around with trays of mini-muffins, smoothies and tiny little pancakes topped with caramelised banana bits. There were magicians and Potteresque wand duels, craft tables and demonstrations. Lots of noise, lots of colour, lots and lots of toys and sweets.
I spent the morning explaining to my five year old that we were there to look, not to buy. The suped-up goodie bags we got on our way out did go someway towards healing those wounds though.
Ringmaster or not, giant Steiff lions and various circus animals aside, it certainly felt like a circus in there, and a VIP one at that.
Harrod's Candy Store, Third Floor, 87-135 Brompton Road, Knightsbridge, London, SW1X 7XL, United Kingdom