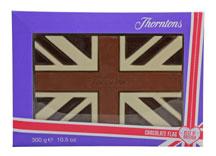 Keith Hurdman holds the accolade of 2011's Joint Chocolatier of the Year. He also hold the title of Thorntons' master chocolatier- surely one of the most desirable jobs on the market. He might have trained all over Europe, winning medals left, right, and centre, but Keith's current obsession is with all things British. And one of my current obsessions is his Bakewell Tart bar- a remarkable Willy Wonka treat distilling every last drop of the scrumptious pudding into a block of creamy milk chocolate.
The Derbyshire dessert is close to the company's heart- hailing from the county in which the chocolate factory is located. Now, though, in true patriotic style, Thorntons need you! Their Great Chocolate Britain campaign is on the hunt for regionally-inspired flavours from the Highlands to the Downs. They're open to anything- though Somerset scrumpy is clearly more likely to be a winner that Suffolk sausages. Don't let that stop you, though. You never know.
But, when a year's supply of chocolate, a visit to the kitchens at Thornton Park, and the chance to see your product on sale on every high street are at stake, you might want to make your entry count. Your fellow countrymen will be your judges, so do them proud. Lie back and think of England… and Ireland, Scotland and Wales.
Keith's already dreamed up flavours including Jam Roly Poly, Apple Pie & Custard, Lemon Sussex Pond Pudding, and Bananas and Custard- so a spot of thinking outside the (chocolate) box is on the menu. You'll need to make it snappy, though- entries close at the end of July, with the winning choc on sale in Thorntons stores from October.
To make your entry, visit www.thorntons.co.uk/greatchocolatebritain