Chilli sauces are hot property of late. Quite literally- nipping at the the heels of Wahaca's latest, and rather tasty, offerings is Rico Picante, claiming to deliver a big whack of flavour along with a fruity burst of fire. They also tick the trend box for provenance- hailing from that oh-so-now, country-of-the-moment- Peru.
Even if you're not sold on the nation's staple diet, rich in freeze-dried potatoes, heavy on the avocado,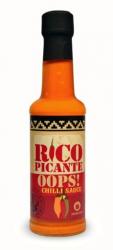 and quite big on leche de tigre- that strange by-product of ceviche best described as fishy milk, you might just find these bottled babies add sparky sauce to a plethora of dishes that could, quite frankly, use a kick up the rear end.
Like, perhaps, cheese on toast- where the medium 'Amarillo' yellow chilli sauce coazes out the fruity notes in even the most massed-produced of block Cheddars. A banal black of beef benefits no end from a slug of 'Andes', flavoured with native black mint; whilst the hotter Amazonia, mixing yellow and Rocoto chillies, is a winner added to a dressing for a bitter green salad.
The whole hot sauce culture, with its almost cultish fans in a never-ending quest for dubious masochistic thrills, can get pretty stupid. So it's refreshing to see a backlash against the pain-for-pleasure brigade, championing the endless nuance of the pepper, and, in doing so, exposing the ignorance of those who believe its all about the burn.
The Rico Picante range is the proud creations of brother and sister team Allison Ward and Christian Castillo-Martinez, who, despairing of the products already on the market, now proudly offer concoctions like the full-bodied Panca chilli 'Smoky' and, for die-hard hotheads, 'Oops!, made with searing-yet-flavoursome Limo chillies. Splash out, splash on- if nothing else, they're an excellent chaser for that odd leche de tigre.
For more on the 5-strong range of Rico Picante chilli sauces visit www.ricopicante.co.uk