The summer's turning out to be a damp squib. We, however, are tucking into perfectly dry, crisp fried squid, luxuriating in the warmth of a garden filled with palm trees. Yes, this is London, and no, we've not imbibed one too many Maharajah Fizzes- although the 200-strong cocktail menu is undoubtedly one of Carom's biggest lures.
As is the prospect of hanging out in a tropical climate furnished with flower gardens, lanterns and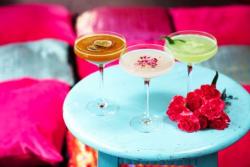 floating candles, propped up on a patterned cushion digging into Pan-Indian snacks. Particularly when it offers protection from the horribly erratic elements right through until the end of August.
The 'pop-up' Indian Garden may be attempting to evoke the debatable glamour of the days of the Raj, but Balaji Balachander's menu is thoroughly modern- and, somewhat rarely for an Indian venue, confidently concise. Happily, the same can't be said for the drinks list- a romp through the classics, as well as Carom's clever signature tipples- featuring ingredients you never knew you wanted in a drink.
Like the curry leaves in a Madras Margarita- which simply add a pleasant savour to the much-loved marg. The spices and exotics could well smack of novelty for novelty's sake, but these drinks are well-judged, well-balanced, and well worth trying before casting judgement.
In common with nearby Imli, the menu focus at Carom lies with snacky, sharing dishes- making it an efficient proposition for a post-work, pre-shenanigans rendezvous. If you're inclined to stay put for the evening, Carom has a more clubby vibe than its neighbour, with music until late most nights.
But, for us sensible types, it's a schoolnight, so a brief pre-prandial dither in the garden is all we allow ourselves before getting ourselves some grub. That squid, unusually cut into half-moons, is spiked up pleasantly with a dunk into the accompanying salsa. It seems strange to eat it in a restaurant rather than on the hoof, but bhel puri is good enough to rival that from street food vendors Horn OK Please.
Prawns and generous hunks of paneer from the tandoor could benefit from a spot less charring, but hey, good on them. I'm just jealous that they managed to get a better tan than I will this summer. Rich dal makhani sopped up with wheaty breads and a pastry-sealed, aromatic lamb biriyani provide sorely needed bulk as we drain our glasses of the last drops of the appropriately-monikered Monsoon Season.
Warm, sated and lulled into a false sense of security by both the surrounds of the summer garden and a slight alcohol-induced haze, we step onto Wardour Street, only to be on the receiving end of a deluge from a passing rickshaw's wheels. Forget schoolnight- within minutes we're hudged up under a palm tree, another round of cocktails on order. As us sensible types do.
The summer garden is at Carom until the end of August, Carom at Meza, 100 Wardour St W1, www.caromsoho.com. Afternoon tea is also available.