What is the hottest trend in London right now? Peruvian food. The award winning Asia de Cuba at St Martin's lane Hotel has taken over "The Front Room" to install their summer pop up serving Mojitos and Ceviches.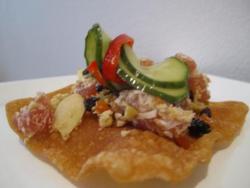 The simple menu has been painted on the wall. There is a selection of rums and a choice of 4 ceviches. These little dishes of raw fish, citrus and herbs are not your usual ceviche flavours. The chefs have added their own twists with combinations such as Seville Orange and Aji Amarillo (a yellow Peruvian pepper), Scottish Salmon and Salted Avocado Helado (which is a little ball of avocado ice cream), Curry Kingfish and Passionfruit – very light and refreshing and a Prawn, Snapper and Confit Watermelon.
All these dishes are made as you order them so you can watch the chefs at work. Just to balance out the menu, they are also serving their signature Mexican Doughnuts with Butterscotch Sauce (£3.50), very moreish.
If you like mingling with the beautiful people, this would be a great pit stop if you are on your way to the Theatre in the West End or a bar nearby. Grab a couple of reasonably priced mojitos (£4) and sample a couple of the ceviches (£6) on offer. This Pop Up will be around until 25 July and they are open from 11.30 am to 7.30pm.