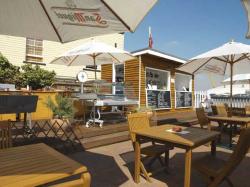 So for the second time Foodepedia has sent me to the corporate wastelands of Canary Wharf, where Libor is rigged for the price of a bottle of Bollinger and Bob Diamond used to rule with a rod of iron and a pile of cash. Last time I came up trumps and had a fishy good time at Feng Sushi, and it was the opportunity for some more under the sea action that persuaded me to return
Every summer, the guys who own a pub called The Gun turn their large outdoor, riverside terrace into a Portuguese grill, serving fish (from up the road at Billingsgate Market) as well as burgers, ribs of beef and lamb kebabs. So I went along with visions of glasses of chilled vihno verde, plates of bacalhau and nice piece of charcoal grilled fish- after all, what could be nicer?
I was told that the walk to The Gun from Canary Wharf is ten minutes; now, that might be true, but is also dependent upon you knowing your way around the Wharf in a manner beyond the level of the casual visitor. Matters were not helped by the fact that I was also getting a simultaneous bollocking from my impatient girlfriend for not knowing my way around. But after a nice tour through a couple of buildings sites we arrived at our riverside destination.
It had occurred to me on my journey that not that long ago, foodie ponces like me would have never contemplated a trip to the Isle of Dogs. I'd have probably been seized by some burly sailors, tarred, feathered, stuck in a barrel and packed off Russia on the Arctic convoy. But the sight of several large, chauffeur driven cars outside the pub assured me that there would be none of that.
My trip to the pub had been prompted by a very brief spell of dry weather amidst the kind of conditions which make you feel like we live inside a damp tupperware box. Sitting down at our table, it was perfectly possible to close one's eyes and imagine yourself in the Algarve, but the chill breeze whipping in off the Thames (I said it was dry, not warm) and view across the river to the O2 centre will conspire to bring you back down to earth rather abruptly.
Unsurprisingly the menu is largely Portuguese in origin, featuring some of the usual suspects to start – salt cod fritters, squid, chorizo etc. The salt cod croquettes were some of the better versions of this pretty ubiquitous Iberian snack, which often taste solely of gluey mashed potato: I could actually see the pieces of cod, which is a relative triumph. The queen scallops with chorizo were a little too well done for my tastes, but I hoovered them up all the same.
However, I wasn't there for the appetisers and neither will you be. What I wanted was a big piece of fish, grilled over charcoal, with salty, crisp, slightly blackened skin and tender, flaking, delicate morsels of flesh. And for once, unlike Morrissey, I got what I wanted: my whole sea-bass had been seasoned, had its skin slashed and belly stuffed full of lemon before being slapped on to the barbie and grilled to deliciousness. When a fish tastes this good after such simple treatment, I wonder why chefs bother mucking around with it so much, but then no-one got a Michelin star for a piece of grilled fish.
My girlfriend decided in her wisdom not to go for something from the grill and instead ordered the seafood rice, which was something of a busked seafood paella. Stuffed full of plump mussels and pieces of fish and squid, it was a good version of the kind of dish you'll find on your hols throughout Iberia. 
By this point we'd been been served enough food to feed three or four normal people, but in your interest I felt honour bound to try one of their pastel de nata, a custard tart to you and I. This was served warm, which was a new one on me, and I fear it might have been in the microwave as regrettably, the pastry was rather soggy. But nonetheless it provided the sweet hit that I require not to go away from my meals feeling short changed.
By now I was feeling rather buffeted by the force seven wind, and despite their kind offer of a blanket, it was time so set sail for home. Closer to central London you'd pay an arm and a leg for this riverside setting and on a nice warm summer's evening there can't be too many nicer places to sit outside and have something to eat. But, and you know what's coming, whether we'll have another one of those this year is another thing entirely.