Holy Moly have partnered with Lucy Lentils to create a Vietnamese Inspired Noodle Salad Recipe, which includes their brand-new Tomato & Mango Salsa.

Holy Moly Tomato & Mango Salsa has been used to create this delicious, fresh and crunchy salad to incorporate a tangy and punchy flavour along with a Nuoc Cham inspired sauce to coat the noodles.
Ingredients
120g noodles (wheat or rice) heated in a bowl of boiling water
1 large carrot
4 spring onions
3-4 tbsp of Holy Moly Tomato & Mango Salsa

For the dipping sauce
2-3 cloves minced garlic
thumb sized piece of ginger, grated
1 tbsp soy sauce
1 tsp tamari or vegan fish sauce
1 tsp brown sugar
1/2 cup water
Sesame seeds to top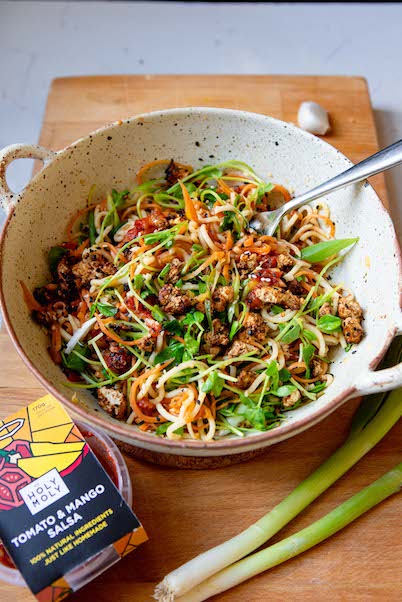 Instructions
Start by grating or julienne peeling the carrot and thinly slicing the spring onions & popping in a bowl with the noodles (that have been warmed through)
Mix all of the nuoc cham sauce ingredients together in a bowl then drizzle over the salad
Add a few tsps of the Holy Moly Tomato & Mango Salsa and mix together then pop in a pan on a high heat and toss around to sear off the garlic
Serve up with a few more tsps of the salsa, sprinkle of sesame seeds & enjoy
OPTIONAL TOFU BEEF
If you want to make this more of a filling salad, I have a tofu 'beef' recipe that you can add.
1 Block of firm tofu (around 250g)
1 tbsp tamari
1 tbsp sesame oil
1 tsp smoked paprika
1 tsp cumin
1/2 tsp chilli powder
Simply mix all of the ingredients together then crumble the tofu, toss in the dressing then add to a non stick pan and fry until crispy"