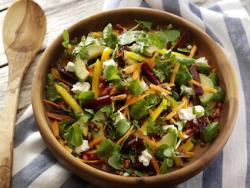 In this quick rainbow salad, you can enjoy the health benefits of watercress alongside a colourful array of vegetables. Packed with delicious superfoods, such as lentils, avocado, feta and pomegranate seeds, you needn't feel guilty if you reach for a large helping.
Serves: 4
Preparation Time: 15 minutes 
You'll need:
2 vacuum packed cooked beetroot
1 yellow pepper
2 medium carrots
1 tin of green lentils (400g)
85g (1 bag) watercress
50g feta cheese
1 pomegranate
2 tbsp fresh parsley
1 avocado
For the dressing
2 tbsp apple cider vinegar
1 tbsp honey
3 tbsp olive oil
Pinch of salt
What to do:
Slice the beetroot and yellow pepper into fine matchsticks and grate the carrot. Drain the tin of lentils and combine with the vegetables in a large salad bowl
Prepare the dressing by whisking together the apple cider vinegar, olive oil, honey and salt together in a bowl.
Pour the dressing into the bowl of sliced vegetables and lentils and toss so all ingredients are coated in the dressing.
Gently toss the watercress through the salad.
Crumble over the feta cheese followed by the parsley.
Cut the avocado in half, twist and remove the stone. Cut into slices and arrange on top of the salad.
Cut the pomegranate in half and tap the back with a wooden spoon while holding it over the bowl to release the seeds, sprinkle on top to finish the salad.
From: www.watercress.co.uk