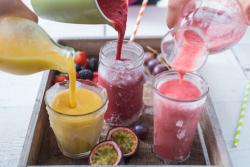 Revolutionary frozen drinks' expert Love Taste will be selling its award-winning smoothies through Ocado, the largest online food retailer in the world.
Starting in March 2015 the company's best-selling drinks including favourites such as Pash'n'Shoot and Broccoli and the Beast will be available to consumers direct for less than £1.
Love Smoothies'innovative frozen fruit sachets enable anyone to make fresh smoothies by simply adding the pouch to freshly squeezed juice and blending for 30 seconds.
Already supplying hundreds of sites across the UK from global food chain Pret a Manger to independent cafes, gyms, bars, restaurants and hotels, the deal with Ocado will enable consumers to have the cafe experience in their own homes.