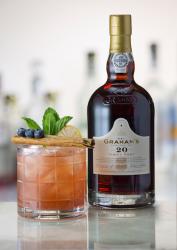 A quick one from the spirits team at Foodepedia – why, what else do you need except the recipe?
This week it's port and Graham's Port, to be precise. The guys at Graham's have collaborated with The Rib Room in Knightsbridge to concoct a port-based Cocktail of the Month which, they tell us, is very delicious.
Pret a Port
35ml. Graham's 10yr old Tawny Port
25ml. Tanqueray Gin
15ml. Cinnamon Syrup
25ml. Fresh lemon juice
1 spoon of Raspberry jam.
Shake all ingredients together and strain into a rock glass filled with ice. Garnish with a lemon wedge 2 raspberries and a blackberry.
Done!