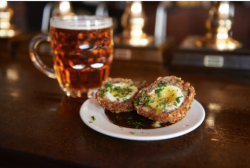 Following the recent success of his kitchens at The Three Crowns in Stoke Newington and The Adam & Eve in Homerton, Cornwall Project founder Matt Chatfield, in a new letting from Shaftsbury PLC, is set to launch a brand new offering in the heart of Fitzrovia.
Former drinking den for George Orwell and basis for the'proles pub' in his iconic novel 1984, Newman Arms will become the central London home for Matt's world renowned Cornish produce.
Newman Arms
Opening on Thursday 16th April starting with a food offering of the 2014 award winning Hog's Pudding Scotch Egg and Cornish Pasties. The full menu begins on Monday 1st June.
The beer range will include Cornish Tintagel Brewery, craft beer from Five Points and a host of other celebrated guest ales.
p.s. 
Newman Arms will be giving away 500 free pints of beer over its first seven days of opening, details and free tickets available from: