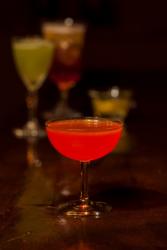 The Natural Philosopher gives us 'The Baltazar' – one of their seven signature cocktails. Light and refreshing, a great drink for the summer – need we say more?
Ingredients:
1 Lemongrass Stalk
6 Raspberries 
50ml Homemade Lemon Infused Vodka
20ml Fresh Lime Juice
15ml Sugar Syrup 
25ml Lychee Juice
Method:
Muddle the lemongrass and raspberries in a glass. Add Lemon Infused Vodka, Fresh Lime Juice, Sugar Syrup and Lychee Juice to a cocktail shaker, shake and strain in to martini glass.