The Paul Hamlyn Hall at the Royal Opera House is one of the most beautiful spots in London. Now you can enjoy it over a very special afternoon tea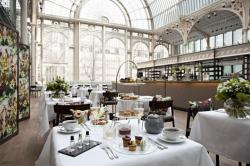 The Royal Opera House's historic glass-vaulted Paul Hamlyn Hall designed by E.M. Barry and originally known as the'Floral Hall' was once part of the famous Covent Garden flower market. It is unutterably gorgeous.
Unfortunately up until now you had to have a ticket to the opera to see it.
Now in May the Royal Opera House will collaborate with natural beauty brand L'Occitane to introduce a limited edition floral afternoon tea which does not need an opera ticket
The new menu, inspired by L'Occitane's La Collection de Grasse, will take its cue from the top notes prevalent in each scent.  Enhancing the sensory experience with both taste and smell, guests will choose from the collection of three matching scents – Jasmin & Bergamot, Néroli & Orchidée or Thé Vert & Bigarade – to accompany their tea.
Created by Helena Puolakka, the menu has been crafted to complement the citrus elements that feature throughout the collection. Finger sandwiches of Native lobster with citrus and dill crème fraiche in lemon thyme brioche highlight underlying notes used in all three scents.
An elderflower and mandarin amandine represents the key ingredient used across the collection, with orange and mandarin featuring as the top note in each scent. Additional patisseries and cakes include a Champagne baba with rose petals and Ruinart rosé, a classic Opéra Gâteau and a green tea and peach macaron that incorporates heart notes from two of the three scents.
A selection of floral cocktails and soft drinks have been created to match the scents
For each afternoon tea ordered, guests will receive a complimentary bottle of one of the three La Collection de Grasse scents to takeaway.
This is a unique chance to visit one of the most beautiful spots in London and, having tried a preview tea, one we can wholeheartedly recommend
The Royal Opera House caters to a variety of dietary requirements offering vegetarian and vegan afternoon tea as well as gluten free, nut free and dairy free alternatives.
Tea at the Royal Opera House is available on selected dates. Please visit www.roh.org.uk/teato check availability and reserve a table.
Royal Opera HouseCovent Garden
London
WC2E 9DD