66 Haymarket, London, SW1Y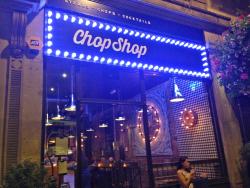 I had a weird compulsion to give up meat at the start of the year. Not for any predetermined period of time, just a strange urge not to consume meat. Well that's gone. It's over. I don't miss meat, but I'm moving to Spain to start a new life and I will definitely have to sample produce, including meat, so, the hardcore carnivore buffest slayer is back.
Being re-introduced to meat after several months is a sort of go-hard-or-go-home scenario. If I'm going to break my new regime then I'm going to do it right – and suddenly, as if by some Harry Potter, in comes an invitation to visit Chop Shop. Damn, universe, you crazy.
Chop Shop – as you can imagine – is a meat head place. Serious meat. I got pretty bored of the same old servings if I'm honest. Leaving meat wasn't hard because everywhere you go it's pulled this and pulled that. I've got nothing against it, done right it can taste like heaven. But some people don't put the passion in. It's just a fad to them. Knock something up on the cheap and chuck it on everything.
Quite clearly a different philosophy at Chop Shop. They're going to do you good meat and they're going to put their grapefruits on the line. Fair play, I'm game for a hardcore meat fest after three and a half months. I'll have a bash at, oooh, everything you want to throw at me. Here goes.
One thing I did miss was scratchings. I replaced them with nuts or crunchy corn, yada yada yada…it worked. A return to meat through pork scratchings is a good path to take. These are more crunch than scratchings, if you don't mind me relaying my expert knowledge on the snack. These are puffier like a quaver, but typically you'd have a lot of popped air bubbles, which can irritate the mouth during chewing because they're sharp, but these are smoooooooth. And warm. And the hot chilli dip is insane.
Big Mig got lured in by the crab cocktail jar served with sourdough toast. It's great, absolutely nothing wrong with it. But I went crispy hot wings. And pulled pork sausage roll. And more scratchings.
The crispy hot wings are just how you want them, a crunch to the first bite but soft and succulent inside. We did half bbq and half chilli. I know I can take heat, but their chilli is a serious butt-kicker. Worth having, but you ought to know your limits or have more stodge. Outstanding though. Cracking wings.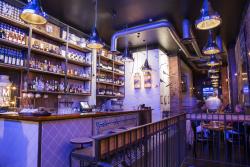 Outstanding can be used for the pulled pork sausage roll. Not because I'm being lazy and using words that the sort-of lifeless PR campaigns use…all those buzz words of excellence…but, quite frankly, if you're served what looks like a few large slices of a sausage roll that turns out to suddenly transform into a huge gobful of pulled pork that's moist yet the pastry is still light and flakey, then there's not many words to go for. Try it. Try and convey finding something that's pure genius and tastes great. Like the day a cream egg was invented.
I went for the 35 day aged rosemary brushed beef rib chop. 300g. Yeah baby. Got my meat on big time. Plus a side order of 12 hour USDA short rib to share. I've gotta dig deep for a second because it's hard to let people know there's a real recommendation to try somewhere through words. Everywhere can do a good steak. If they can't, they're fools. Going the extra mile for meat, so that you remember it, those places you ought to note down in the brain. The ribs are incredibly soft and really do melt. The sticky glaze is naughty. The apple & radish slaw completely cleans out the mouth.
Chips. Great. Baked cheesy leaks. Creamy. Shoestring onion rings. Bargain. Fried egg on top. Perfect. Whole roasted garlic. Powerful. Caramelised onions. Tangy. And the chop shop salsa verde, steak sauce and vodka bacon peppercorn sauce are all bang on the money.
For some reason I was feeling a bit full and wasn't really up for a dessert. Sorbet would be nice. Oooh, and a coffee. You can sort of do both and have an affagato, which is a vanilla gelato, averna amaro liquer and freshly brewed espresso. So simple, so easy. And a lovely scoop of ice cream. I'm all boozy and hyper. I feel happy enough to continue on, but I'm also feeling like a serious pot-bellied porker.
I'm going back again pretty soon. We were tempted to try the cottage pasta pie – basil gnocchi pasta, braised oxtail and parmigiano. But we were flying in a few hours and it sounded a bit filling. But the staff are great and the prices are just, normal, nothing outrageous at all and it's in Haymarket? Fair play. Great night. Go for the ribs, stay for the scratchings.