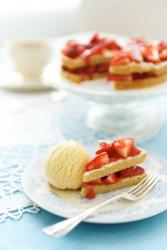 Love one or two? Try these summery recipes made wth Kelly's ice cream
Strawberry Shortcake:
175g butter 
75g caster sugar 
175g flour 
1 tbsp fine semolina 
500g strawberries 
extra strawberries for making the coulis 
juice of 1 lemon
icing sugar for dusting 
1 tub of Kelly's of Cornwall Cornish Dairy Vanilla Ice Cream
Preheat the oven to 160oC.
First make the shortbread biscuit. Soften the butter in a food processor or with a wooden spoon and cream together with the sugar. Add the flour and semolina and mix together. Divide the mixture in two. Using your fingers, press the shortcake mixture into a round tart tin or ring and repeat the process. Prick the shortcakes with a fork and score eight portions in each with a knife. Place in the fridge to cool.
Hull and quarter the strawberries and place in a bowl with lemon juice. Reserve a handful of the strawberries and blend with some lemon juice until smooth, pass through a sieve and reserve.
Bake the shortcakes for around 30 minutes. Once golden brown, remove from the oven and allow to cool. Remove from the tin and cool on a wire rack. Place one shortcake base on a serving plate. You can score it again if you need to, which will make it easier to serve. Arrange half the strawberries on top, drizzle over a little juice and a drop of coulis and place the other shortcake on top. Add the rest of the strawberries and coulis, sprinkle wirth icing sugar and serve with Kelly's of Cornwall Cornish Dairy Vanilla Ice Cream.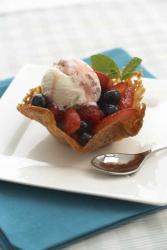 Berry Salad with Brandy Snaps Cups:
For the snaps: 
110g sugar 
110g butter
110g golden syrup 
110g flour, sifted 
juice of 1 lemon 
pinch of ground ginger
For the berry salad: 
200g raspberries 
200g blueberries 
400g strawberries 
50g sugar
juice of 1 lemon 
fresh mint leaves 
1 tub of Kelly's of Cornwall Strawberries & Cream Ice Cream
Hull and and quarter the strawberries and place in a serving bowl with the other fruits. Make a quick syrup by melting the sugar, lemon juice with 2 to 3 tbsp of water. Once the sugar is melted, set aside and leave to cool. Once cool, pour over the fruits and leave to rest for at least an hour. Now make the brandy snap cups..
Preheat oven to 190oC. Line a large baking sheet with greaseproof paper.
Melt the sugar, butter and syrup together. Remove from the heat and add the flour.
Add the ginger and the lemon juice. Place a tsp of the mixture onto the baking sheet, leaving room for the mixture to spread. You may need to make two batches. Bake for around 5 or 6 minutes or until they are golden brown. Remove from the oven and when cool enough to handle, scoop each biscuit up with a knife and lightly press inside a small cup to shape, remove and place on a cooling rack, repeat for each brandy snap cup.
To serve, place a brandy snap cup on a plate, fill with fruit, add a scoop of Kelly's of Cornwall Strawberries & Cream Ice Cream and spoon over a litte juice. Decorate with fresh mint leaves.