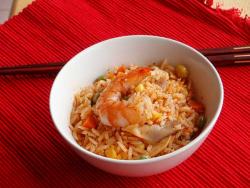 A classic dish popular around the world tom yum is characterised by its distinct hot and sour flavours. The most popular version is as here made with prawns. Making the all important paste is time consuming so WORLDFOODS make it easy for us.
For an authentic Fusion & Asian cooking experience in your own home, you can buy WORLDFOODS sauces direct
All Foodepedia readers can take advantage of an EXCLUSIVE free shipping code on all products, please use: V2T9QF63
Ingredients
1 1/2 cup cooked cold rice, left overnight in fridge
2 tbsp cooking oil
3 cloves garlic, finely chopped
1 shallot, thinly sliced
50g chicken breast, diced
6­7 French beans, trimmed and diced
80g pineapple rounds, chopped
8 king prawns, peeled and deveined with tails intact
2 tbsp WORLDFOODS Thai tom yum paste
1 tsp kecap manis
1/2 tsp fish sauce
To serve
2 eggs
1 1/2 tbsp oil
Cooking Instruction
1. In a wok, heat the oil over medium high heat. Add the garlic andshallots and cook for 1 1/2 minutes until lightly browned. Add chicken and cook for 2 minutes, then add the WORLDFOODS tom yum paste and fry for a further 1 minute, until fragrant.
2. Add rice and French beans, and stir well to coat with the sauce. Cook for about 2 minutes, until the rice is heated through.
3. Add prawns and cook for another 2 minutes, until the prawns are cooked. Finally, add the pineapple chunks and season with kecap manis and fish sauce.
4. To fry the eggs, place 1 1/2 tbsp of oil into a small frying pan over medium low heat and break an egg. Cook until the egg white has set, then using the spatula, scoop hot oil onto the egg yolk for about 10 seconds. Repeat with other egg.
5. Plate the rice, and top with a fried egg each. Serve immediately.
Note: You can substitute French beans with long beans or peas.
Serves 2