Forget a ride on the magic school bus (for those who feel a bit generationally challenged, have a look here), the only bus to catch this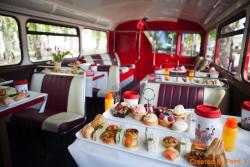 August is the one featuring the glorious combination of tea connoisseurs from Afternoontea.co.uk and the pastry masters from BB Bakery. Because, for one week only during Afternoon Tea Week (11-17th August), this red bus will carry you around the prettiest parts of London and serve you a full high tea while its doing it, including as many glasses of Laurent Perrier that your travel tummy can stomach.
I hopped aboard last week with a fleet of fellow food writers and bloggers to test our mettle on a portable afternoon tea with a difference. There's something quite special about this tour, and it isn't just the array of slightly warm (it was one of the hottest days of the year so far) tea treats that was spread out on tables between the vintage leather seats. It was this very odd sense of delightful privilege you get when ensconced high above the bustling streets, watching London's seething crowds and phalanx of traffic snake past from the lofty viewpoint of the top deck of a London bus, chilled champagne in hand.
In fact, it was all I could do not to start waving like a regal berk at the minions below – a sensation that lasted about as long as it took me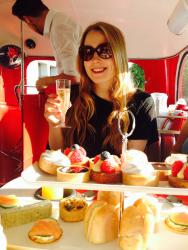 drop some exquisitely-made coco-rich, black truffle chocolate tart down my skirt. Anyone worrying, as we all were, about the saftey and practicality of trying to pour hot tea on a moving bus will be pleased to know that the teas are all served in sealable china mugs and the waiters seem to have been hired for their ability to say perfectly upright in jolting traffic while expertly pouring champagne – I'd like to know what the interview process involved for that job!
The route weaves itself around some of London's best-loved landmarks and iconic sights, from Westminster's Big Ben to The Royal Albert Hall and Marble Arch – places that are infinitely easier to take in when you're looking through a bus window than trying to navigate the tourist tornado.
There's plenty of time in the one-and-a-half-hour slots to scoff your way through the full range of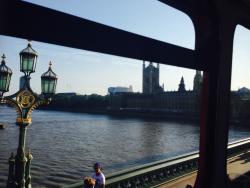 sweet and savory treats on offer, from cream cheese sandwiches, salmon blinis and light as a feather quiches to cupcakes, macaroons, burnished scones with strawberry jam and Roddas clotted cream and some of the best little lemon meringue pie-lets I have ever eaten. What's more, you can even hire the whole bus for parties or hen dos, and specify if you need a gluten free or vegetarian tea.
At £45 per person it falls into the middle ground of high-end afternoon tea prices in London, but what other place can offer you quite the same experience? Exactly! For more information and to book, see the Afternoon.co.ukwebsite.
As well as the Afternoon Tea Bus, Afternoon Tea Week will be featuring a vast array of traditional and unusual teas. See my pick of the best below.