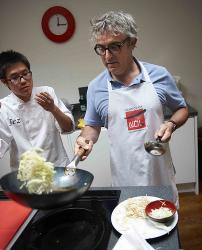 One of the oldest forms of'fast food' a stir fry is always a treat down my way. You don't even need a wok or even to cook on gas; flat bottomed woks are available and don't do a bad job on an electric ring. Ideally of course you want one of those upturned jet engines you see in Chinese restaurant kitchens but they aren't exactly ideal for home use unless you want to blow the roof off.
When we spent a day at The School of Wok we used some nifty modern electric dedicated wok hobs which certainly helped, but if you've only got a frying pan you can still fry up a storm. Prep and heat, that's the secret.
Prep is the time consumer, all that chopping and assembling of spices can be a bit of a bore and the spices may not be all that fresh. Pre made sauces are a bit of a godsend mid-week and we tried out some of WORLDFOODS large range over the course of a week to see how they delivered.
Thai time
First up on a Monday night was Thai 'Pad Thai' Noodle Sauce, as I do love a Pad Thai. The sauce is a mix of Tamarind Puree, Shallot, Onion, Chili, Salt, and Garlic. For a truly authentic result it's a good idea to get some lime, fresh coriander, peanuts and bean sprouts and, if you have time, to make an omelette to shred and place on top.
We used raw prawns and the very necessary flat, white rice noodles, which only need pre-soaking in hot water to be ready to add. A quick cook of the prawns, they spend only a moment on the heat, in with the noodles, bean sprouts and the bottle of sauce and cook until the sauce becomes dry-ish then serve garnished with the other bits.
A decent result, a bit lacking in chili fire to combat the sweetness, soon rectified by adding some WORLDFOODS Thai Chilli Paste, To be fair, the sauce does say'mild' on the jar and, while you can always add more chilli to suit, you can't take it out. So not making it too hot was a safe bet by WORLDFOODS.
A fast tasty meal for two in under ten minutes, you can't knock that.
Chinese cook in
So onto another sauce, and we left Thailand for China on Tuesday night with Ginger, Garlic and Chilli dipping/stir fry sauce. This one has what it says on the jar, fairly fiery chilli and lots of warming ginger. This we used on some briskly stir-fried sliced chicken breast and all the suitable veg we could find in the fridge.
Stir fries are great for clearing out'scraps', in this case some halves of red and green pepper, some onion, some green beans and half a courgette sliced. Served on Thai rice this was quite spicy, no need for extra chilli this time. I'd have added some more fresh garlic perhaps at the start but overall it worked.
Like all the sauces tested the label stated it had no artificial preservatives, no GM and no gluten which is obviously A Good Thing.
Thai me home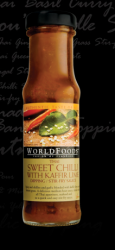 Finally we went back to Thailand on Wednesday via Sweet Chilli with Kaffir Lime sauce. This was medium hot and so we tried it with some Vietnamese rolls as a dipping sauce and it clung to the rolls well, a runny dipping sauce is always a messy business.
There was a sharp vinegary tang that poked through the sweetness in a good way and the kaffir lime was strongly present. We didn't get to try it as a sauce but no reason why it wouldn't do well at that too.
Overall we found the sauces had plenty to recommend them, Ease of use and decent result being the primary one, followed by value and the absence of any preservatives and other undesirables.
Win 2 x tickets for a School of Wok Thai Cooking Class in our WORLDFOODS competition
Pad Thai Noodle Sauce – £1.69
Chinese Ginger, Garlic & Chilli Dipping Sauce – £1.35
Thai Sweet Chilli with Kaffir Lime Dipping Sauce – £1.35
For an authentic Fusion & Asian cooking experience in your own home, you can buy WORLDFOODS sauces direct with a large range of 18 types of Asian dipping sauces, pastes, noodle sauces, stir-fry, cooking sauces and marinades.  Get free shipping when you use the unique Foodepedia code V2T9QF63