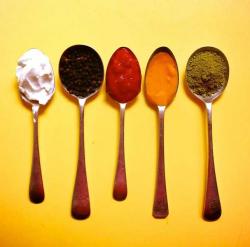 Come to your senses with The Art of Dining's'Colour Palate', this August and September, with a five course meal, a welcome drink and a chance to literally taste the rainbow.
For its next pop-up event, The Art of Dining aims to  stimulate different senses – taste, vision, hearing, touch and smell – in an exploration of colour. The dining room, your plate and your glass will be flooded with different colours as each course arrives and the music changes. You can, they say, expect  to be stimulated, amused and delighted by the setting and your meal.
Chef Ellen Parr, who trained at Moro restaurant in London's Exmouth Market will be choosing ingredients firstly for colour not flavour, while artist and set designer Alice Hodge will use lighting and transparent materials to create an ever changing environment. Guests will be interacting with courses to complete their own colour palate throughout the evening.
 Music will be provided by Radio One DJ Gemma Cairney.
 DATES:
Wednesday 20th – Saturday 23rd August
Wednesday 27th – Saturday 30th August
Wednesday 2nd – 6th September
TIME:
7.30pm – 11.30pm
VENUE:
Carousel, 71 Blandford St, Marylebone, London, W1U 8AB*
*Carousel is a 10 minute walk from Baker Street or a 10 minute walk from Bond Street
TICKETS:
Tickets are £50 per person (including a welcome drink) and are available now www.theartofdining.co.uk/buy-tickets
"