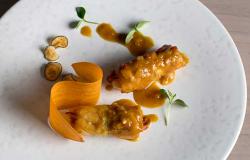 From 26th January to 28th February, Michelin-starred fine-dining Chinese restaurant HKK will be marking Chinese New Year with A Culinary Journey Through China, a 10-course tasting menu taking inspiration from different Chinese provinces. HKK has also worked with an illustrator to produce one-off menus for each guest to take home with them at the end of the meal.
A Culinary Journey Through China celebrates the eight most influential styles of all Chinese regional cuisines – often referred to as the "eight culinary traditions of China". Focusing on each of these provinces, the menu takes guests on a journey from the mountainous Anhui province to the coastal areas of Jiangsu and the city of Beijing in the Shandong province, followed by two unique desserts. A wine-pairing menu is optional, starting with the Yáng Walker cocktail which translates as "Sheep Walker or Shepherd" and contains the Chinese spirit Baijiu.
Chef Tong Chee Hwee, Executive Head Chef of Hakkasan Group, has created every dish using the ancient techniques of each specific region of China, designing a menu that travels across the country.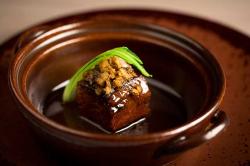 Each dish results in an entirely different sensation than the last, from the tongue-numbing Szechuan scampi to the earthy truffle Jasmine tea-smoked poussin to the butter-soft King soy Wagyu beef in Merlot. The element of surprise continues with the desserts, featuring a Trio of dark chocolate dim sum with yuzu and ginger infusion, and Sheep's milk mousse, pandan curd and caramelised puff rice.
Highlighting Chef Tong's modern approach to time-honoured recipes, the menu reflects China's rich and diverse landscapes, history and culture, all of which contribute to the range of techniques, ingredients and dishes that make up Chinese cuisine as it is recognised today.
Embracing the time-honoured tradition of gifting at Chinese New Year, HKK will present each guest with a beautiful hand-drawn menu illustrated by Louise Morgan. The booklet contains drawings of the key ingredients (abalone, cordyceps, King crab and more) and Chinese landmarks, as well as a map depicting the culinary journey on which they are about to embark.
To celebrate 2015 being the Year of the Sheep, the cover of this limited-edition menu is home to an elegant hand-drawn sheep. 
A Culinary Journey Through China menu is available for £98 per person. For reservations call 020 3535 1888 or email reservations@hkklondon.com