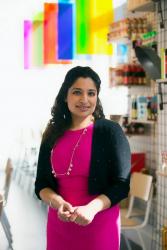 Wine brand, Blue Nun has linked up with chef and entrepreneur, Angela Malik to create a range of mouth-watering  Asian inspired dishes for you to create at home. 
Dazzle dinner party guests with her crowd pleasing Korean Sizzling Beef dish, followed by her impressive Michelin inspired dessert, White wine zabayon with lychee and berries, which is refreshingly simple to create.
Or try her take on a contemporary Vietnamese Pho Style Soup Chicken Noodle Soup, a killer chicken soup recipe that everyone should have in their repertoire.   
Or will her fresh take on classic, Phad Thai noodles with wok tossed tiger prawns, sweet potatoes and spinach whet your appetite?     If you're looking for a vegetarian dish with a twist, try her Crunchy paneer served with Indian spicy mushy peas, courgette raita dish, simply delicious.
Making you hungry?  Follow the simple step by step below and discover some top tips from Angela to make these fresh and delicious recipes for yourself.  Serve with a glass of Rivaner Riesling wine, a good wine to accompany a wide selection of Asian inspired foods.
Angela Malik says:
" I teach Asian inspired cooking; healthy, vibrant and easy to create at home. My philosophy is the five tastes hot, sweet, salty, sour and umami combined in your dishes to give perfection in your mouth and the right wine will certainly complete it.
Blue Nun Rivaner Riesling is balanced, off dry with aromatic notes of honey and tropical fruit. This newer, more sophisticated wine is the perfect companion to my Modern Asian cooking complementing its heady spices and herbs from India, Thailand and China.
 I have written this series of every day and delicious Modern Asian recipes for you to create at home. Try them, experiment with the flavours. Feed your family and impress your friends each dish is perfect to serve with a chilled Rivaner Riesling. "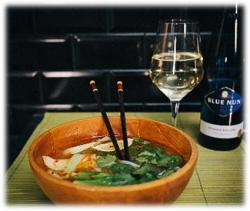 Vietnamese Pho Style Soup Chicken Noodle Soup
Everyone should have a killer chicken soup recipe in their repertoire. This is a flavour packed, nutrition dense soup which makes a great starter or can be a quick and easy week day main course. Pho is Vietnamese for noodle which you can leave out if preferred.   I have added a splash of Rivaner Riesling to give the broth an added kick.
Serves 4
Ingredients
1 litre of chicken stock
4 chicken thighs
1 onion finely sliced
1 carrot sliced
3 cloves of garlic, peeled sliced
1" ginger, peeled and sliced
6 cm stick of cinnamon/cassia bark
1/2tsp coriander seeds
2 Star anise
1 small bok choi or green cabbage
Rice noodles (soak the noodles in water20 mins)
1 Tbs fish sauce or to taste 100mil Rivaner Riesling
Fresh Lime juiced
1 bunch coriander (separate the roots & stems from the leaves)
Handful of rice noodles soaked in cold water
Method
Poach the chicken leg in the stock for around 20 minutes and set aside to cool.
While the chicken is poaching put the star anise, cinnamon, coriander seeds in a wok or frying pan and toast. Remove from the wok into the stock.
Add the ginger, garlic and toast till charred. Remove from the wok add into the stock.
Finely slice and onions and the carrot. Heat 1 tbs oil to a hot frying pan or wok and brown the onions. Add the onions, carrots and coriander roots and stems to the stock.
Add wine to the stock and simmer for 10 minutes.
Adjust the seasoning by adding the fish sauce and lime juice to taste.
Slice the bok choi and roughly chop the coriander leaves
Skin the chicken and shred into large chunks.
Place the chicken, noodles, bok choi and chopped coriander into a serving bowl.
Pour over the strained boiling stock cover serve with chilli oil.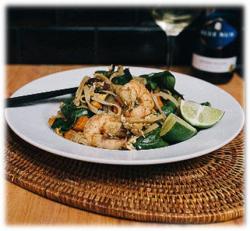 Phad Thai noodles with wok tossed tiger prawns, sweet potatoes and spinach.
Angela says,
"This dish is a fabulous combination of flavours and textures. The base is my signature Thai style pesto made with coriander, chilli, garlic and salted soya beans it is wonderfully umami, packs a punch. You can prepare everything well in advance so when home from work all you have to do is put the wok on and toss together in minutes
Serves 4
For Phad Thai
1 sweet potato boiled and cubed
12 king prawns peeled and gutted
2 Tbs rape seed oil
½ bag baby spinach
¼ red onion
Light soy sauce
Handful of Thai rice noodles
1 egg
1 Tbs fish sauce
Salted peanuts (optional)
Water in a jug – to add as necessary
Ingredients:
For Thai Pesto
½ Bunch Coriander
Light soy sauce
2 cloves garlic sliced
1" ginger
2 teaspoons salted soya beans
1 red chilli
1 Lime Juiced
1 tspn Sugar
Method
Heat 2 teaspoons of oil in the wok. Fry the prawns remove to a plate.
Heat 2 teaspoons of oil in the wok. Add onions and sweet potato. Add one tablespoon of thai pesto and allow to cook for 1 minute. Remove from the wok and keep warm.
Heat 1 tbs of oil in the wok. Break in the egg and lightly scramble
Add a handful of pre-soaked noodles and stir fry thoroughly until cooked
Add a splash of water to keep the noodles soft. Move from bottom up, do not allow to stick and burn.
Combine the prawns and vegetables with the noodles. Add the spinach leaves.
Add 1 tablespoon of the thai pesto and stir through. Remove from wok and sprinkle with peanuts to serve.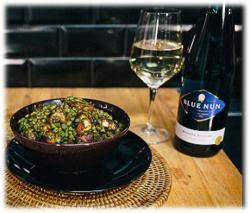 Crunchy paneer served with Indian spicy mushy peas, courgette raita (v).
Angela says:
"Paneer is a firm Indian cheese which stands up well to grilling, stir frying and in curries available in most supermarkets.  In this recipe the paneer is quickly fried with a corn flour batter with a splash of Rivaner Riesling for super crunch, tossed with spicy peas and served with courgette raita.  Also makes great main course for a dinner party.
Ingredients
For Paneer
200g block paneer cut into cubes
Salt to taste
2 tbspns corn flour
2 tspn plain flour
Rivaner Riesling to make batter
For Courgette Raita
1 teaspoon cold pressed rapeseed oil.
200g plain yoghurt
½ Tsp cumin seeds
1 courgette in ribbons 
Salt to taste
Serves 4
For Spicy Peas
250g frozen green peas
1 teaspoon cumin powder
1 teaspoon coriander powder
¼ teaspoon red chilli powder
½ teaspoon dried mango powder
Salt to taste
Water to help frying
2 tbnsp cold pressed rapeseed oil for frying
Method
For raita: Heat 1 teaspoon oil in the wok. Add cumin seeds fry until brown.
Toss the courgette ribbons until softened add salt to taste.
Add to the yoghurt and set aside.
For the peas: heat 2 tablespoon oil on setting no 10 in a wok and add the peas with all the spices. Toss for 4-5 minutes. Using the back of your spoon and a splash of water mash the peas. Set aside in a bowl
For the paneer: Combine flour, cornflour and ½ tsp of salt, add enough wine to make a batter. Cut paneer into small square pieces. Dip them in the paste and fry till golden brown.
Combine the paneer and peas in the wok. Serve with courgette raita on the side.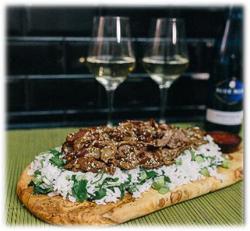 Korean Sizzling Beef
Angela says,
"A crowd pleaser, this recipe is based on bulgogi, a classic Korean dish of sliced beef that's marinated in soy sauce, sugar, sesame oil and garlic, then grilled. In this version I have added a splash of Rivaner Riesling into the marinade. Serve with my favourite Asian style slaw. For a party I suggest serving the beef on a platter of steamed basmati rice topped with finely chopped spring onions."
Serves 4
Ingredients
500g thinly sliced rib-eye or sirloin steak. Partially freezing the beef helps with cutting clean slices.
50ml light soy sauce
50ml Rivaner Riesling
2 tbspn white sugar
1 tbspn sesame oil
2 cloves of garlic, crushed
2 tspn ginger, finely minced
1 tbspn sesame seeds
1 red onion, sliced
4 spring onions finely sliced
500g cooked rice
Whisk all the ingredients together in a medium bowl except beef and onions.
When most of the sugar has dissolved, add beef and onion slices to the bowl and massage the marinade with your hands into each slice of beef. Cover and refrigerate for 1 hour.
To pan fry, place a few slices of beef in single layers and completely flat on a hot oiled frying pan and fry each side until cooked. Some people prefer to cook the bulgogi until some of the edges have turned dark brown and crispy.
Toss the spring onions with the cooked rice to serve with beef.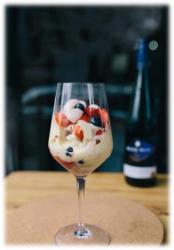 White wine Zabayon with lychee and berries.
Angela says
Ingredients
4 egg yolks
75 g caster sugar
150ml Blue Nun Rivaner Riesling wine
1 tin lychees
Berries of your choice
Cinnanon Powder (optional)
"A simple yet very impressive dessert inspired by a lunch at the world famous Ivy restaurant in London.    This pudding is sure to wow dinner party guests, traditionally made with Marsala,  I have switched it for the Rivaner Riesling .   The zabayon custard takes a little time to prepare however is very impressive when served with the fruit straight at the table. Adding a pinch of cinnamon to the fruit gives a wonderful warmth and aroma to this dessert."
Serves 4
In a large, heatproof bowl, whisk together the wine and sugar. Then whisk in the egg yolks.
Set to bowl over a pan of gently boiling water (the bottom of the bowl shouldn't touch the water) and whisk vigorously until the mixture becomes frothy and stiff.
The zabayon is ready when the mixture is thick and holds its shape when you lift the whisk and let some of the mixture drop back into the bowl.
Pile the berries and their juices into a glass and top each with warm zabayon. You can sprinkle them with cinnamon powder, if desired.
About Blue Nun
Blue Nun Rivaner Riesling, in the classic and iconic blue glass fluted bottle, is a fresh, crisp and fruity German wine, which tastes really great matched with many aromatic, spicy or oriental foods.   It has perfect balance, softness and depth of fresh fruit flavours, so is easy to drink and really delivers on taste.   
The iconic brand is owned by the Langguth family in Germany, who have used their passion, heritage and expertise to create this quality wine made from the Rivaner and Riesling grape varieties.  To enjoy at its best, lightly chill before drinking (Alc 10.0 % Vol).     Blue Nun Rivaner Riesling is available in most supermarkets nationwide with a RRP of around £5.99. For more information visit www.bluenunworld.com or visit http://www.facebook.com/BlueNunUK.
For media enquiries, please contact Julia at Entertainment Marketing Group on 0207 324 1620 or email julia@emgroupuk.com