We staggered up sober to the 2014 Kebab awards. No need to pitta us though, it was fun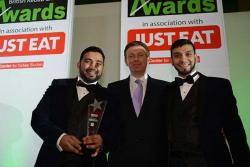 Every other fast food staple has, it seems, been given the hipster makeover but not the kebab. Why not? It has all the necessary ingredients – it's a hand held flavour bomb easily prepared using simple equipment, but it remains the Cinderella food. It doesn't get invited to the ball when arguably, uglier sisters always are.
It is of course probably down to the Elephants (leg) in the room. Most people's perception of a kebab is a doner. Sliced from a giant spit of meat, often of dubious quality, it's shoved into a pitta'chili sauce with that?' camouflaged with shredded iceberg lettuce and thrust into the hand of the (usually drunk and male) customer.
Biting into one  you get sauce in each ear and a few seconds later the middle collapses and it all showers to the floor; there is usually a radius of doner debris around 15m from any kebab shop.
The British Kebab Award Ceremony is  now in its third year and recognises that kebab businesses currently make an annual contribution over £2.2 billion to the economy and that bad kebabs needn't be the norm.The awards ceremony was a fun night with lots of Labour MPs and mayors getting down with the ethnic vote including Neil Kinnock who, one suspects, eats a lot more expense account Michelin meals in Brussels than he ever does kebabs in the UK.
The winners were not servers of flabby'lamb style meat', but people dedicated to proper kebabs sizzled over charcoal and marinated with love.
The overall winner was Mozz Restaurant of N21 London, so well done them. In fact it seems for top kebabs you need to go to Hackney and Islington with three outright winners and two "highly recommended" accolades, including best takeaway and best young chef, coming from those ivory postcodes.
Takeaway restaurant, Kebabalicious, based in Wythenshawe, Manchester, won the JUST EAT Best Delivery Restaurant
For all the winners, here's the list.
We were invited along by the sponsors, JUST EAT. Thanks chaps,we owe you a beer perhaps witn a kebab after.