It was only a matter of time before street food met posh nosh. And FEAST was one of the first to flaunt the culinary collision,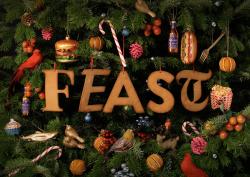 hosting a bijou collective of traders and restaurateurs at their inaugural festival at Guy's Hospital last summer. 5,000 food-lovin' Londoners can't all be wrong, and the Christmas FEAST line-up is looking pretty appetising…
A former Royal Mail sorting office off Upper Street isn't the most obvious of venues- but then FEAST are aiming to offer a tasty experience that goes a little beyond the obvious. The festive programme features'banquet'-style seating (whatever that is); experimental cocktail bars that will hopefully steer clear of the latter half of the word; live music and theatre; and light installations.
Dancers from the Royal Ballet will be performing daily, their slender physiques no match for Mark Hix's proppa grub or myriad and perhaps Christmas-sy offerings from Moro, Mishkins, Randall and Aubin, Lucky Chip, Delhi Grill, Gordon Ramsay's York and Albany, Lily Vanilli, Ceviche and the Pizza Pilgrims. All the more for you, then.
FEAST takes place from December 6th-9th at Islington Square, The Former North London Mail Centre, Studd St, N1 0QJ. For further info and to book visit www.wefeast.co.uk