From the North to the South poles, people do like a nice bit of cake at Christmastime. Packed with the prestige indicated by copious fruit-and-nut usage, these are an often boozy, always bountiful, and occasionally barmy bunch.
Germany- Stollen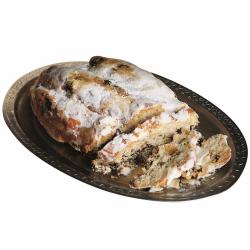 In a perhaps somewhat abstract fashion, stollen's shape represents a swaddled baby Jesus. Rooted in the Middle Ages as an austere recipe of oats, flour and water, the German loaf now features dried fruit, an avalanche of powdered sugar, and often an almond-paste core. The best comes from Dresden, which holds an annual festival and accredits 150 artisans with official production.
Demel Stollen in a wooden box, £25, available from Fortnum & Mason
Chile- Pan de Pascua
The ur-version of this cake was the stollen introduced to Chileans by German immigrants.  This fruity, nutty, honey-and-ginger flavoured spice cake is has evolved into a sort of tasty hybrid of that German loaf and the Italian panettone, spiked with rum or pisco and traditionally consumed with a coffee beverage oddly known as'tail of a monkey'.
Finland- Joululimppu
Less sweet than its sicklier counterparts, this Finnish rye bread is darkened to a broody hue with molasses and made festively aromatic with orange zest and spices including anise, fennel, cinnamon and, unusually, cumin. Improving with age, similar specimens from the Ã…land islands are traditionally darker- known as mustaleipä-'black bread'.
Caribbean- Black Cake
The most aptly-monikered cake ever, this midnight-dark delight is squidgy with rum and is a reassuringly weighty beast. Loaded with fruits, nuts and enough booze to put you firmly over the drink-drive limit in a single serving, it's often further darkened with burnt sugar which adds a pleasantly bitter note. Pretty much like the trad. Brit Christmas cake, if it hit the bottle. Hard.
Trinidad Black Cake, £29.99, available from Trini Roti Shop
France- Sweet Fougasse 
This traditional Provençal bread is just one of the dishes gracing the groaning table of 13 puds served up as part of French Christmas custom. A flat loaf snipped carefully into its namesake'leaf' shape, the festive version is packed with fruit soaked in orange flower water- or, less abstemiously, rum. On the dessert table, the bread represents'the oil pump' and must be broken, never cut.
Japan-Anime Strawberry Cake
Traditionally eaten on Christmas Eve, this is one of those light, frivolous affairs the Japanese have concocted to make you consume a week's worth of sugar without feeling you've consumed anything at all. The chiffon-like'kasutera' white sponge often makes an appearance in Anime cartoons, frilly with with whipped cream, layered and decorated with strawberries and chocolate shapes.
Italy- Panettone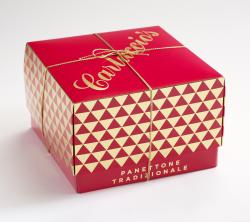 A long prove is what makes the Milanese favourite panettone so light, whilst it's shape is a result of an unside-down, post-bake hanging. A folk tale has it that a poor kitchen hand-'Toni' made the bread to impress a father and win the girl, but it's just as likely to simply mean'large bread'. In 1821, red cherries and green citron were thrown in to evoke the Italian tricolore.
Panettone Tradizionale, £16.95, available from Carluccio's
Goa- Baath
Christmas is huge in Goa, and is traditionally welcomed with all manner of coconut-based sweetmeats, collectively known as'kuswar'. Baath is one such example- a blonde, semolina-and-coconut affair with just a smattering of dried fruit. The Portuguese legacy has left Goans with a hearty love of egg yolks, rendering this festive speciality as rich in colour as in taste.
Switzerland- Birnbrod
A toothsome, dense fruit-and-nut concoction, birnbrod is a pastry-encased fruitcake comprising pears, sultanas, dates, prunes, raisins and figs. The fruit adds the characteristic dark, with texture from pine kernels, nuts, candied peel, kirsch, vanilla and spices. The best examples are to be found in the village of Grisons, from which emigrant peasant cooks spread the cake's popularity.
Greece- Christopsomo
Decorated with a cross, this richly-fruited'Christ's Bread' originates in the Peloponnese. Important family initials and numbers add to the external embellishment, whilst inside lurks a feast of wine-soaked figs, anise, orange and mastic (dried pine resin).  An Epirus spin is called 'kouloura', whilst on the islands of Crete, Cephalonia, and Zakynthos, the fluffy loaf closely resembles panettone.
Sri Lanka- Christmas Cake
Making full use of the riches of The Spice Island, Sri Lanka's Christian festive fancy features a wealth of fruits, nuts and spices, including cashew nuts, candied pumpkin, rose jam and semolina. Making one involves a cool amount of cash, but it's worth every penny-if you can bear to part with it, the cake should be cut into pieces, wrapped and distributed amongst your nearest and dearest.
Sri Lankan Christmas Cake, price on request, available from Hopper Hut Caterers
Philippines- Christmas Cake
Unique amongst Asian countries in having such a large Christian community (around 80%), Christmas is pretty big shakes in the Philippines. Big bright yellow pound cakes are studded with macerated nuts and drenched in brandy or rum mixed with an intense palm sugar syrup. Today, the traditional flavouring agent, civet musk, has mostly been replaced with rose- or orange-flower water.
Portugal- Bolo Rei
Translating as'King Cake', this soft enriched white dough is tricked out with fruits and nuts. The cake also has a number of variations- an Escangalhado'Broken' type includes cinnamon and doce de gila- a squash jam, whilst the'Rainha' (Queen) version is slightly less grand, featuring only nuts and raisins. The'cake with a hole' shape is supposed to represent a regal crown.
Bolo Rei, price on request, available from Micarmo