Corrigan's Mayfair Chef's Table 28 Upper Grosvenor Street London W1K 7EH www.corrgiansmayfair.com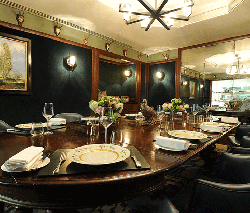 A nod away from the traffic and fumes of Park Lane there's Grosvenor Square where things are that much more elegant and enticing. Upper Grosvenor Street is not quite the'square' but it is home to Corrigan's Mayfair – owned by Richard Corrigan, eminent chef and restaurateur with a passion not only for food but for art, judging by the impressive collection that this handsome restaurant boasts.
The styling here is very'grown up'. The use of buttery-soft, oxford blue leather furniture, ageless oak flooring and quirky bronze sculpted lamps indicate a lot of dosh has been invested here. Carved oak dividers depicting hunting scenes, combined with dramatic black duck feather shades give a sense of grandeur without pomp. The choice of fine art that adorns the walls is clearly personal, but there's broad appeal with contemporary pieces giving the space a sense of fun and an insight to the man behind the menu.
And so, the menu – simply described and beautifully executed with dishes that truly deserve to be eaten. Canapés – ideal if you're entertaining in one of their handsome private dining rooms – consisted of oysters Vietnamese with fried shallots, mini rabbit pie topped with mustard fruit – intensely rich, yet incredibly moreish – and fois gras duck terrine with black figs on brioche, every bit as good as it sounds! All perfect pop-in-your-mouth canapés that delivered on flavour, didn't spoil your appetite, and revved you up for the next act.
On to the starters – a bouncy soft egg, fresh peas, sweet, plump bacon lardons and truffle salad was heartier than it sounded with the delicate truffle shavings subtly taking things up a notch. My dining partner, with a little encouragement from me, chose the sautéed squid with chorizo, feta and parsley butter. It must have been good, because sadly, I didn't get a look in.
The headlining act of perfectly tender Elwy Valley lamb with rosemary sauce, white beans and grilled lettuce left me spontaneously sighing, feeling content that I'd made the right choice – rare for me as I am always hankering after someone else's, annoyingly undecided throughout. My dining partner's a fish fan; her Cornish plaice with mussels and seaweed butter had enticed her away from the a la carte and was off the keenly-priced set-menu – 2 courses for £21.00 including a small carafe of wine. Not bad value for Mayfair! Apparently, it was all "excellent" and that's coming from a girl who's paid to eat out four times a week, so I'm inclined to trust her on this.
Naturally, it's not surprising that dessert was a struggle, but there to eat we were, so we struggled on and our sharing sweet of choice was chocolate mousse, salted caramel and malt ice cream – the perfect closing act to a most impressive show.
Throughout, we enjoyed some stunning wines, expertly recommended by willing staff – a Gruner Veltiner Spiegel, a superb example of what Austria has to offer; and O Rosal, Terres Guada from Spain, with gentle citrus and peach notes that worked harmoniously with the fish. With my lamb I enjoyed one of my old faves, a Barbera d'Asti from Piemonte, Italy, a medium bodied red that has plenty of clout, but doesn't overpower delicate red meat.
Another thing that Richard Corrigan seems to do so well is select great staff. From the kitchen to the front of house, he always has a tight, happy and appealing team. Food always tastes nicer when the hospitality is genuine and relaxed and the bill never hurts so much either when you've had an all round jolly good time. This bill was approximately £65.00 each, but that was a la carte with fabulous wines by the glass, so all in all, not bad for fine dining. There were a few'faces' there, but it would be indiscrete to mention them (even though I really want to!) because I would imagine celebs choose this place for its discretion and unpretentious approach. Now, who am I to sabotage that?