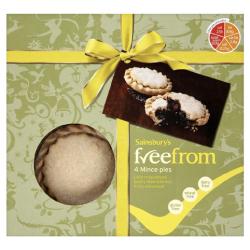 It's always hard to cater for everyone at Christmas and it's even harder when your guests have food intolerances. Many traditional Christmas treats will contain a number of allergens from gluten, nuts and dairy to soya, egg and wheat.
It's not all bleak though. Sainsbury's have recently expanded their freefrom range to include Christmas goodies. For the first time this year, they have produced mince pies, Christmas pudding, Christmas cake and iced fruit cake that are free from gluten, wheat and dairy. The best bit is that they are not hideously expensive. Those mince pies are £1.99 for four, the Christmas cake is £3.49 and the Christmas pudding is a tiny snippet of Heston's at just £3.99.
For those that don't celebrate Christmas, they also have some 200 different freefrom products to choose from.
You can find freefrom products in all large Sainsbury's or online at sainsburys.co.uk