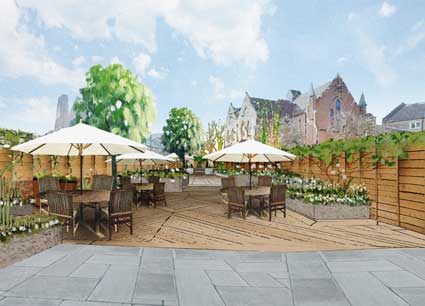 The Avalon, Clapham's finest public house and garden, renowned for its elegant seasonal British menu and superb wine list has successfully sourced brand new chef, Adam Hicks. Formerly of Bermondsey Kitchen, Hicks brings a master's touch alongside a no-nonsense approach to cooking, allowing the fresh, seasonal and locallysourced ingredients to sing for themselves.
Owned by Tom Peake, Mark Reynolds and Nick Fox, The Avalon, with its stunning dining room, continues to embrace its iconic English heritage, in keeping with its sister venues The Stonhouse and Abbeville, also in Clapham, The Bolingbroke in Battersea and The White Hart in Kennington. Hick's new menu continues to nod back to the 19th century, with many hearty, slow cooked dishes, bold flavours and a dedicated steak section.
Meat remains aged in-house to assure you of the most tender and flavoursome steaks andtraditional Sunday roasts. Hicks has in fact extended this approach to his introducing a brand new grill section. Fantastically honest dishes which stay true to their origins include starters such as roasted veal marrow bones with shallots, parsley, caper salad and toast; peppered venison carpaccio with rocket, shaved parmesan and truffle aioli; and chicory, walnut, pear and Roquefort salad. Main courses feature braised rabbit with smoked pancetta and pearl barley; slow cooked lamb shank with swede puree, red currant and rosemary jus; as well as mackerel with a pinenut and herb crust, shaved fennel, cherry tomato and olives. Dishes from the new grill section include spatchcock poussin with aioli and Welsh lamb cutlets with paloise sauce. The astounding pudding menu completes the ensemble, including arefreshing raspberry crème brulée; baked vanilla cheesecake with rhubarb compote; and sticky toffee pudding with stem ginger ice cream
With a wide-ranging menu that varies in harmony with the day, The Avalon offers a reviving brunch, with baked eggs florentine, eggs Benedict, omelette Arnold Bennet and eggs royale all stealing the show. The new bar menu keeps it classic with The Avalon ploughmans and a house terrine with red onion chutney. Kids are also now officially catered for with a dedicated menu which includes an Angus burger with french fries and haddock served with mash and peas. Traditional roasts with all the trimmings will continue to be a speciality. Serving
over 300 every Sunday, there really is no better place to dine south of the river.
All menus are complemented by an extensive wine list divided by style rather than origin and a constantly evolving list of well-kept British cask ales, including Timothy Taylor Landlord Doom Bar from Cornwall and Wandle ale from localBattersea brewery Sambrook's.
In addition to the marvellous alfresco front terrace, The Avalon's new stylish rear garden, seating 200,opened on 1st May. A perfect chance for Hicks to show his versatility with, a new Mediterranean food offering .
The Avalon, 16 Balham Hill, Clapham, London SW12 9EB t: 020 8675 8613