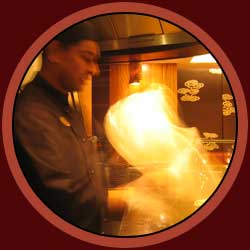 Fine-dining Chelsea restaurant Awana is embracing the culinary traditions of Malaysia's street hawkers this March. Encouraging passersby to stop and try something different, executive chef Mark Read has created three signature street food dishes to showcase Malaysian cuisine.
Whether it be for lunch, a quick evening bite or part of a deliciously decadent dinner, Awana's new 'Street Food Festival' dishes are a must.
ikan sumbat
whole mackeral stuffed with soya bean paste, chilli and tamarind
wrapped in banana leaf and served with a salad of peppered leaves
barbecue ayam
corn-fed chicken leg marinated in sesame bbq sauce
and served with fragrant rice and salad
mee goreng
stir fried hokkien noodle with corn-fed chicken, assorted seafood,
shellfish and pak choy
All dishes are £12.50 with lunchtime diners and those eating between
6pm and 7pm enjoying a complimentary Chang Beer of alcohol-free
cocktail, the 'dato special'.
The Street Food Festival will be available from 16th – 30th March.
Awana
85 Sloane Avenue
London SW3 3DX