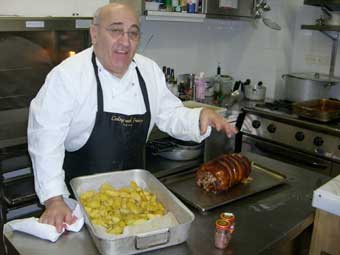 'They're too big!" Chef Franco Taruschio, the chef who will always have 'Walnut Tree' in any sentence that follows his name, is giving me the full benefit of his sixty-nine years of culinary experience. 'You want a size seven," he says gazing at my feet, ' but they're still a nice pair of shoes."
As we walk out the shoe shop and join the Italians promenading up the main street of Porto Recanati in La Marche, Italy, his squat figure makes his wife Ann giggle. 'Here we are in Italy and he still looks and dresses like a Welsh farmer," she says fondly.
The Walnut Tree was of course one of the most famous restaurants of its day. Situated near Abergavenny, it was Franco and Ann's Italian food paradise where for over forty years people flocked to sample Franco's superb La Marche influenced Italian cooking, cooking which was seasonal and local long before the words became fashionable. That, of course for a true Italian chef, is how you always cook. Not from a recipe book but from the heart and soul and using whatever catches your eye in each day's market. Franco and Ann gave up the Walnut Tree in 2001 to the sorrow of all true food lovers and moved to a well-deserved semi-retirement nearby.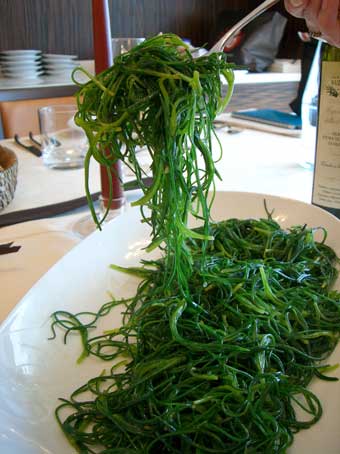 Which brings us to Franco's latest venture. Unable to sit still for a minute, and with an OBE under his belt, he has accepted a part-time job running a cookery school in Recanati near the town of his birth. This is no twee farmhouse with old rooms and a bit of light cooking thrown in. Instead Franco is working in a new designer hotel created from a former 16th Century convent embedded in the ancient walls of this pretty hilltop town, itself about forty minutes from the Ryanair served Ancona airport. The intention is for people to really experience Italy in this beautiful but lesser known part of 'The Boot' and to learn about simple, brilliant Italian cooking from the master of the art.
The very first afternoon, soon after our arrival and transfer to the hotel and now replete with tasty snacks and a blood orange prosecco, we are in front of massive windows in a spare dining room looking out onto a beautiful view of hills and towns stretching away to the infinite distance. This is the same incredible view the luxurious and stylish bedrooms enjoy and here will be home from home for the next few days as Franco shows us ingredients and techniques. The kitchen is next door, also with stunning views, and Franco moves about his domain in his calm and economical way, cheerfully glugging olive oil into pots, peering over his glasses into the misbehaving oven, rattling instructions at his Italian helper and calling us over to observe what he's doing as he does it. His enthusiasm is infectious and his passion undeniable.
His accent though is as thick as his fingers, 'Bladdy Italians!" he says more than once, but when he talks about Wales his accent is pure Welsh, especially with the place names. He prefers Wales to Italy, waxing lyrical about the foods available and the people he knows there. He can't wait to get back to his house as he says it's his 'real' home.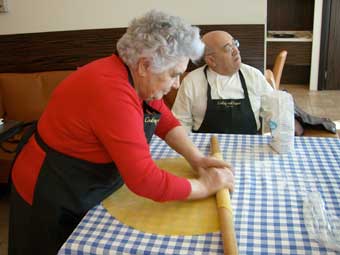 But you can't beat fresh Italian produce and that's why we are here, so that Franco and Ann can bring in salads picked dew-wet from the fields that morning and fish so fresh it still stares at you accusingly. The local markets are packed with new season small artichokes and we prepare them under Franco's direction, stuffing parsley and garlic between the leaves and then braising them in white wine and local award-winning olive oil. We tackle Barba de Frate – a new vegetable to all of us – it looks like a bunch of chives and you strip away the roots to blanch it and dress it with olive oil, garlic and mint. Another new vegetable is Puntarelle, although I've since found it in Streatham of all places. This vegetable has spears rather like asparagus in its center and Franco shows how you first slice these thinly then drop them into iced water where they curl up attractively, Drained, dried and simply dressed with olive oil, anchovies, garlic and vinegar they make a marvelous starter.
It's not all cooking though, one morning is spent in the market with Franco ducking and diving between the noisy stalls and emerging with bags of red mullet, another in visiting two sisters who run an award winning olive oil producers nearby. Another day we go to a vineyard that produces stunning red wines from the Montepulciano grape. It's all an education, just as Franco and Ann have intended it to be, and when we sit down later in Ancona port to lunch in the largest and most wonderful delicatessen I have ever seen, Franco waxes eloquent on the passion and commitment of the suppliers in the area. If the owners are aware they have one of the finest Italian chefs at their table, they don't let on. Franco eats his dish of simple local rabbit approvingly, gnawing the bone clean and clearing his plate.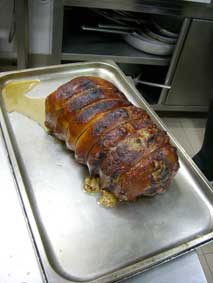 Each day we somehow gravitate in the early evening back into the hotel kitchen where we feel at home. One night the hotel is having a literary soiree for about twenty people and when the manageress suddenly announces at the last minute that it's going to be at least triple that, the hotel chef looks like he wishes he were wearing browns and not whites. Franco simply swings into action and we help so that later that night as the guests all tuck in, we all sit at a table near 'our' kitchen hidden from view and eat the same dishes of stockfish and barbarelle and enjoying our 'back stage' life. One day Franco persuades a local 84 year old lady to come and make pasta for us, her skill quite outstanding as she rolls out pasta as thin as paper using just a wooden rolling pin and then, with deft knife skill, turns it into spaghetti.
The bucolic four days pass all too quickly. The company is great fun and Anna and Franco marvelous hosts. We leave them on a Sunday; us to go the airport and them to go for a massive seafood lunch locally that they will be eating as we munch our in-flight food, read our collected authentic Marchigiani recipes and think about all the lovely things we have cooked and bought and have stashed away in the airplane's hold. The next day Franco and Anna return to their beloved Wales, but they will be back in Italy soon.
More details of Cooking with Franco classes can be found at www.ghr.it or email the lovely hotel mamageress stefania.ghergo@ghr.it
Enter our competition to win a place at an upcoming cookery school with Franco in La Marche. Click here