Us East London types are a parochial bunch. Friendly, but pretty parochial. So until now it's been a right pain to venture into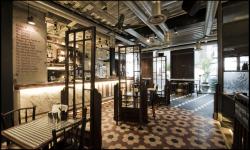 the tourist-ridden West End to get our fix of the buttery comfort heaven, pau bhaji, and tumblers of scrunchy ice gola. But! Hallelujah! No more. Because we've got own branch, appropriately bordering Banglatown and Hipsterville.
And, dare I say it, it's even better than the original. Scruffy, off-the-beaten-track and welcoming from dawn till dusk. As with the original, each and every fixture and feature has been so carefully considered it comes across seeming as if no-one's given a flying feck. And therein lies Dishoom's appeal and unique beauty. Anti-design at its finest.
You'll get it or you won't. Detractors will view it with the same disdain as they do the well-heeled Shoreditch kids sure to become regular clientele- decent-salaried creatives who prefer to rock the'just-rolled-out-of-bed' look, Yeah, the one that took three hours to perfect. And yeah, they get my goat too. But, for me, Dishoom itself can do no wrong.
And there's no doubt it's been well received, with Friday-night queues meaning an hour's wait. But waiting in this big shabby space, cocktail-in-copper-cup and a bowl of that rainbow savoury far far to hand, somehow doesn't stick in your craw half so much as freezing your arse off outside the latest burger-sorry, slider- joint in a drafty Soho side-street.
When you do get to eat, the Irani-style Bombay cafe grub is worth every bit of what you pay- devoid of that'hip tax' that means you pay a premium to come away from a cool new venue smug but still hungry. Lamb raan bun, the Dishoom equivalent of a pulled pork bap, lives up to the online wibbling. But from a bacon naan at breakfast to a late-night'Ruby Murray', everything's just so blimmin' well-executed.
Particularly the cocktails, served in the'Permit Room' bar. Try a Paan Sour, Bombay Martini or Edwina's Affair- delivering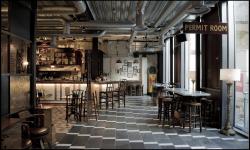 both merriment and India itself in a gulp. Non-alcoholic sharbats are ridiculously refreshing, and chai comes perfectly strong, milky and sweet. A few carbs are always handy after a few bevvies- convenient, then, that Dishoom Shoreditch boasts an in-house bakery, churning out savoury puffs to put a few Greggs out of business.
They're also big on celebratory fun- and, to mark the light-riot of Diwali, they've called in storytelling legend Vayu Naidu to share the tale as part of the South Asian Literature Festival. There'll be pavement-decorating, face-painting, paan-chewing and- what else- food. The festive fodder is a feast in the truest sense- packing in chaat, lobster, the famed biryani and black daal and a pud. Don't be fooled by that decor- there's nowt shoddy about Dishoom.
Navid Nasir's Diwali Menu is available at both branches of Dishoom from 5th-14th November, priced at £28.50pp. Storytelling will take place at 11am in Covent Garden and 5pm at Shoreditch on Sunday 11th November. For further information see www.dishoom.com and the South Asian Literature Festival website
Images courtesy of Sim Canetty-Clarke.