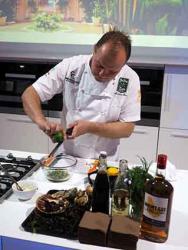 Barbados, which calls itself'the culinary capital of the Caribbean', kicks off the autumn season with its annual Barbados Food & Wine and Rum Festival which will be held from 19-22 November 2015.
The  festival sees top international chefs and  local talent alike at various locations across the island, allowing participants to experience  the various tastes of Barbados.
This year's schedule is designed to give visitors a sophisticated introduction to Bajan fare and produce, and features  acclaimed international chefs such as Andrew Pern of the Michelin-starred Star Inn at Harome in Yorkshire, who will complete his residency at Cobbler's Cove; San Francisco-based restaurateur Chris Cosentino and Carla Hall – co-host of ABC Daytime's lifestyle series The Chew – all of whom will be joined by internationally acclaimed chef, Marcus Samuelsson of Harlem's Red Rooster fame.
Andrew Pern was on hand in London this week to demonstrate some of his Caribbean dishes and help launch this year's festival.  Looking forward to escaping the British drizzle for sunnier climes, he prepared    
Tartare of Sea Scallop, Salt n Vinegar Seaweed, Oyster Chantilly,
Roast Fillet of Veal with Smoked Eel and Horseradish Croquettes, Pumpkin Piccalilli, Pickled Carrots, Onion Puree and Sherried Juice.
This being about Barbados, there was plenty of Mount Gay rum on offer, and the official 2015 Festival Cocktail is the Bay Passion – a mix of bay leaf juice, passion fruit juice, cocnut syrup, blue Curacao, Angostura and white rum, it did a good job of injecting some Caribbean sunshine into the proceedings.