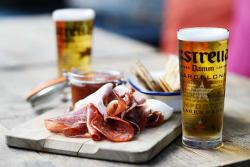 Young's have teamed up with iconic beer Estrella Damm to bring a taste of Barcelona to Britain with the Estrella Damm Tapas Tasting Evenings.  A series of lively evenings running from September – October, guests can enjoy an innovative five course tapas meal that has been designed especially to match the flavours of Estrella Damm by Young's expert team of Chefs.
Hosted in the informal and relaxed setting of Young's Pubs by one of three drinks experts from'The Wine Chap' team – Tom Harrow, Douglas Blyde and James Wills* – the Estrella Damm Tapas Tasting Evenings feature sharing plates piled high with modern bites like Smoked Mackerel and Beer Bread, Beetroot, Radish and Cashew Nut Salad and Sour Dough, Tortillas and Tomato Chutney.
Over a three month period Tom, Douglas and James tasted over thirty dishes and sipped their way through numerous pints of beer served in varying ways to identify the wide range of flavours that match the smooth, light and citrus flavours of Estrella Damm.
Each dish created by the Young's team of Chefs will be accompanied by a different pour of Estrella Damm, served at varying temperatures in a selection of glass shapes and sizes. Each has been especially selected to bring out the flavours of each course by The Wine Chap team who, by highlighting the versatility of the beer, hope to challenge any pre-conceptions that beer has a one-dimensional taste.
Throughout the course of the evening guests will also have the opportunity to have a go at pouring the perfect pint of Estrella Damm themselves following a demonstration of the Estrella Damm Crema Pour technique.
Tuesday 23 September: Home Cottage, Redstone Hill, Redhill, Surrey, RH1 4AWWednesday 24 September: Duke on the Green, 235 New Kings Road, Fulham, London, SW6 4XGThursday 25 September: Halfway House, 521 Garratt Lane, Earlsfield, London, SW18 4SR
Thursday 30 September: Queen Adelaide, 35 Putney Bridge Road, Wandsworth, London, SW18 1NP Wednesday 1 October: Britannia, 1 Allen Street, Kensington, London, W8 6UX
Thursday 2 October: Weyside, Millbrook, Guildford, Surrey, GU1 3 XJ
Two additional further locations to be confirmed
Sample menu
Tickets £30 per person
Includes a five course tapas menu and regular pours of Estrella Damm beer
Tapas 1
Rare Breed Cumberland Scotch Egg
Black Pudding Scotch Egg
Piccalilli & English Mustard
Tapas 2
Smoked Mackerel, Beer Bead
Beetroot, Radish and Cashew Nut Salad
Tapas 3
Salt Cod & Spring Onion Croquets
Freshly Beer battered Squid
Tartar Sauce
Garlic Mayonnaise
Minted Mushy Peas
Twice Cooked Chips
Tapas 4
Charcuteria
Selection of British Cured Meats
Sour dough, Beer bread, Tortillas and Tomato Chutney
Pan Fried Gressingham Duck Breast
Broad Beans, Feta and Mint Salad
Tapas 5
British Cheeseboard
Westcombe Cheddar
Figs, Crackers and Fresh Fruits