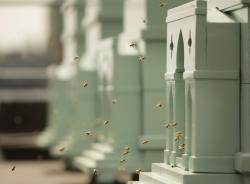 This year's Fortnum's honey auction takes place at the Honey Supper Club on September 25 in the much-loved Fountain restaurant. Featuring dishes using honey from the 2014 harvest, the evening begins with cocktails, followed by a honey-themed three-course dinner, petits fours and coffee. It is a celebration of Nature at work in the City, in a most delicious way.
In 2008, Fortnum & Mason became one of the first businesses to harvest honey in London, when it installed four beautiful hives on the roof of its flagship Piccadilly store. Now, six years later, the bees are a London fixture. They have been working hard all summer long, and the honey harvest has now begun.
It has become a tradition that the first jars from the Fortnum's rooftop hives are auctioned for charity. This year, the honey auction will not only feature the harvest from the Piccadilly hives, but also from Fortnum's new hives in Hoxton. The jars will come in a beautiful limited-edition packaging, and there will be the opportunity to bid for other lots, including dinner for up to six people in Fortnum's Crypt, an atmospheric and historic hideaway deep beneath the bustle of Piccadilly. The proceeds will go to The British Beekeepers Association, which does wonderful work in encouraging amateurs to take up this fascinating pastime.
The menu for the evening has been devised by Fortnum's executive head chef, Sydney Aldridge – who comes from a bee-keeping family. Sydney will be at the event to talk guests through the menu, and to relate his experiences working with bees and cooking with honey. Also speaking will be Steve Benbow, Fortnum's very own beemaster.
Tickets for the event cost £45 and are available by calling 020 7734 8040 and to keep up to speed on Fortnum's future supper club events keep an eye on the Fortnums website.