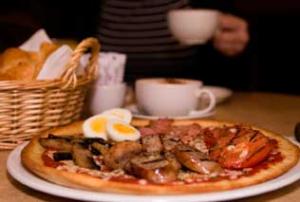 Is nothing sacred? The great British fry up is about to get a continental makeover as Bella Italia launches the 'Brit-alian Breakfast Pizza" to mark British Sausage Week, which runs from 2 to 8 November.
Believed to be a first for a UK restaurant, the dish combines all you would expect from a hearty Full English but cooked on a crispy, thin-crust pizza base.
Bella Italia's development chef, Vittorio Lettieri, masterminded the dish. He said, "It's a real sizzler that won't disappoint"
'The British love their bangers. They're as much of a national institution as the Italian pizza so we thought we'd celebrate British Sausage Week by combining the two."
The pizza features an award-winning Lincolnshire sausage produced by John Pettit butchers in Grimsby. Made to an original family recipe dating back to 1810, the sausage has won numerous accolades at the Great Taste Awards.
A generous helping of bacon, mushrooms, eggs and tomatoes are also served up on the cheese and tomato pizza base; and it's equally delicious whether sprinkled with parmesan or doused in brown sauce.
The 'Brit-alian Breakfast Pizza" will be available in Bella Italia from the 2nd November until the end of the month, while stocks last. Due to high demand for the locally produced sausages Bella only has a limited batch, so get in there quick. For your nearest restaurant, visit www.bellaitalia.co.uk.
To find out more about British Sausage Week, visit www.britishsausageweek.com