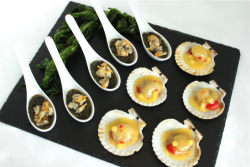 Long gone are the days of pineapple and cheese sticks or smoked salmon blinis, this winter  learn how to whip up some quick and easy nibbles for the festive season.
Billingsgate Seafood School and Champagne Lanson is running'Festive Canapés' classes weekday evenings leading up to Christmas. Guests will learn how to create simple canapés and finger foods that can be put out when enjoying a Christmas tipple or two. Not only will guests learn how to create a selection from scratch but also be taught tricks and cheats, so you can be ready with a little something as soon as the doorbell rings.  
Treated to a glass of Champagne Lanson Black Label Brut upon arrival, top chefs will demonstrate how to prepare and serve a number of different dishes including Cuttlefish Croquettes, Grilled Queenie Scallops in the shell, Quails Eggs with Devilled Cheese, Caramelized Red Onion and Walnut Marmalade on Brioche and Home Smoked Sea Trout with Pickled Cucumber.  Guests will also be shown which Lanson Champagne goes with which canapé, to ensure that this Christmas you dazzle your friends and family with your hosting knowledge.

Upon class finishing, each guest will be presented with their own Billingsgate Seafood School canapé recipe book, filled to the brim with even more tasty canapé recipes meaning you can serve a different selection at every party.
Billingsgate Seafood School is also sharing the secrets of catering en masse, along with hints and tips for cooking for larger parties at home, with recipes slightly altered for when time, experience and money is of the essence, the'cheats vs going the whole hog'.  With seasonal twists added to the dishes, this Christmas everyone will be knocking on your door for food and drink.  
Classes will run on Thursday nights from 12th November to 10th December with a few additional Friday evening dates.  £50 per person the lesson will start at 7.00pm and finish at 9pm.  Guests will be taught a selection of fish, meat, vegetarian and dessert canapés on the day.
The recipes prepared on the day include;
Cuttlefish Croquettes
Grilled Queenie Scallops in the shell
Home smoked sea trout with pickled cucumber
Pork Rilette on apple crisps and crackling
Chestnut and Toasted nut meringues with Chocolate Drizzle
Sesame crusted Tuna