The momentous occasion of my 1,600th Wednesday will soon be upon us. I was born on a Wednesday so it's the day I've done most. It turns out there's only been one, just 0.06% of the total, where I've sat in a bath drinking whisky. That was the 1,583rd Wednesday, a Wednesday when I stayed at a hotel called the Bel & The Dragon in Churt, Surrey.
Toasters, hairdryers, alkali metals, singers on Xanax; the list of things that don't mix well with baths is long and infamous. A soak doesn't seem like a bad idea, however, on returning to your room from the first-floor study of a very comfortable hotel having helped yourself to one of two whiskies kept in shimmering cut-glass decanters. This is especially true if you've just checked in after a meal at the Bel & The Dragon's restaurant in Godalming.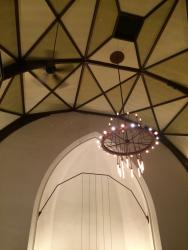 The meal was an example of the dinners served at the restaurant's monthly'Supper Club' evenings. While supper clubs are hip and marketable, it's arguably a misnomer in this case. The nights involve a group of strangers eating together but the dishes don't have a home-cooked character and the venue is permanently a restaurant; it's not someone's home, or a shipping container, or a railway carriage put to use for one night. The feel and novelty of supper clubs is usually markedly different to a meal in a restaurant.
That's not to say the Bel & The Dragon Godalming lacks atmosphere or charm, housed as it is in a deconsecrated 17th century church. The conversion has been done sympathetically and there are some ingenious lighting tricks and a mezzanine floor to accompany the beauty of the original stain glass windows and architectural shapes. It's reassuring that listed buildings don't only have to be put to other use as branches of Wetherspoon's.
Joel Cadbury co-owns the seven-site chain and although his great grandfather is responsible for all the chocolate, Joel is more interested in fine food and wine. As far as the business is concerned, this interest is reflected most acutely in the supper club events, which tend to focus on vintage reds from Bordeaux and food to match.
On arrival, we have cocktails at the downstairs bar and later take our seats on a long candle-lit table upstairs. There is another table behind us heaving under the weight of numerous bottles of three different wines, including a 2000 La Croix de Beaucaillou. This cabernet-sauvignon/merlot blend is the evening's main event alongside grilled rib of beef, but a baked sea trout salad with 2010 Chassagne-Montrachet is first.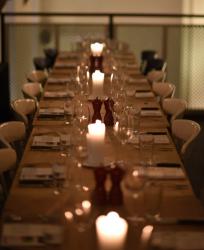 The chardonnay is pleasant on its own but it's when we begin on the perfectly cooked trout that it really comes to life. The minerality isn't lost but the moist fish accentuates the body of the wine, and the saucing and fennel garnish are complemented by the wine's citric flavours. The two together make for a very elegant starter.
Restaurants are quick to let you know when they have a Josper grill; it's their way of impressing upon you that the kitchen treats the cooking of meat very seriously. Rib of beef doesn't disappoint, all pink on the inside with a mildly bitter char on the outside. Among sides of greens, artichokes, confit garlic, roast tomatoes and cauliflower cheese, roast potatoes come with a golden brown exterior so crisp that some of their rough edges have broken off in the tray and their surfaces almost shatter under a fork's pressure. You know something very simple is very good when you instinctively want to ask the chef how they did it.
The 15-year old Claret, made from grapes picked around the time of my 745th Wednesday, is rich, powerful and well structured. It's everything you'd expect of a vintage wine from a region as renowned as Bordeaux. On a wine list it's likely to cost at least £150 a bottle, which highlights the opportunity the supper club nights provide to drink some very special wines without spending exorbitant amounts of money.
A luscious 2008 Tokaji is a great match for a Chocolate Nemesis pudding served with salted caramel sauce and crème fraiche ice cream. I assume the name for the rich chocolate tart was derived from the fact that you'll quickly regard it as an undefeatable adversary having already eaten two courses. The amounts left by some of my neighbours suggests Chocolate Git might be a more appropriate title but I, at least, enjoy finishing it off.
If you live in London and fancy a night or weekend away from diesel fumes and people standing on the left of escalators, both the Bel & The Dragon Godalming and the Bel & The Dragon Churt are a short train journey from Waterloo. Despite their proximity to the capital, the areas in which they sit feel sleepy, rural and peaceful and would be a good choice if you want a short break that's not too far from home. Even if you don't fancy the supper clubs, the standard of the Bel & The Dragon's food and accommodation make for a very relaxing getaway.
The next Bel & The Dragon Supper Club takes place on 4 November and will see roast loin of venison matched with 2003 Chateau Grand-Puy-Lacoste. Tickets cost £55 each and yes – it takes place on a Wednesday.