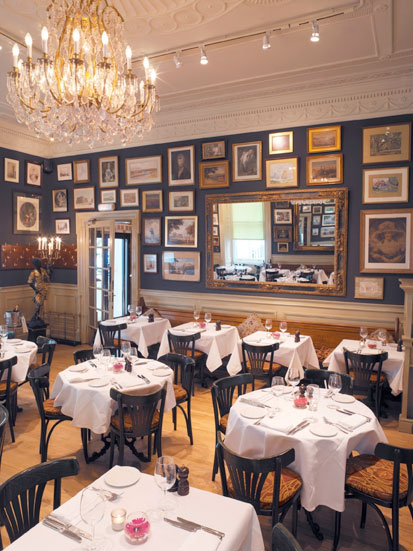 Bistro One Ninety at 190 Queen's Gate, Kensington, received great critical acclaim when it was opened by Anthony Worrall Thompson in the early 90's. Under its new ownership, Bistro One Ninety is seeking to return to its heyday with the appointment of a talented new Head Chef, Taher Djeebet.
Taher Djeebet was head-hunted by Bistro One Ninety from his previous position as Head Chef at Cruse9 in Islington, following the restaurant receiving three stars from The Evening Standard's Restaurant Critic, Fay Maschler.
Using his restaurant experience from Spain and Morocco, Taher's new menu at Bistro One Ninety features modern British dishes with worldwide influences. Taher's signature dish is Hampshire pork fillet stuffed with apricots and Indian spices with coconut risotto and caramelised bananas (£15.95).
Additional menu items include: Steak tartare with duck egg, lime juice and coriander (£7.50); Pan-fried monkfish medallions on a dried fruit and nut compote with warm tabouleh salad (£16.95); and Duck breast with butterbean puree, apple and grape compote with a port and calvados sauce (£15.95). Desserts include a Hot chocolate fondant with Madagascar vanilla ice cream and toffee sauce (£5.95); and a Blue cheese tart with port and vanilla reduction and a pear chutney (£5.95).
The 48 seat bistro opens at 7.00am each morning and is a buzzing location for brunch. Open throughout the day, guests can arrive at Bistro One Ninety until 11.30pm, where they can enjoy a relaxed dinner until 1.00am, every day of the week.
Alongside the continental and traditional English breakfasts, brunch dishes include Brioche French toast with crispy bacon, fresh berries and maple syrup (£14.95); Waffles with berries, maple syrup and whipped cream (£14.95); and Grilled kippers with toast (£14.95).
Located close to the Royal Albert Hall, pre and post theatre menus include a selection of three choices of starters, mains and desserts. Priced at £21.95 for two courses and £23.95 for three courses, the menu is available from 5.00pm until 7.00pm and again from 10.00pm until 11.30pm.
Bistro One Ninety, 190 Queen's Gate, London SW7 5EX
Tel: 020 7584 6601 or visit www.gorehotel.com