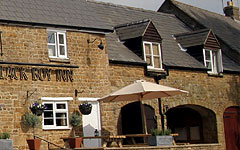 On Wednesday, 3 December, the Black Boy Inn in Milton will offer a feast made from local produce alongside the opportunity to buy gifts directly from producers. And for this shopping trip, all under one roof, no umbrellas will be needed. The Black Boy Inn's head chef Kevin Hodgkiss has prepared a menu using entirely local seasonal produce, including "Upton Smokeries" goose breast with berry salsa & shaken oak sweet honey mustard dressing, or "The Meat Joint" made with rosemary & redcurrant sausages. Guests will be able to try the "Country Deli" Christmas pudding or "Oxford Cheese Company" cheese board. With Homemade mince pies served with handmade Grand Marnier truffles, the dinner alone is an event not to be missed.
After dinner, guests will move to the conservatory where they can meet producers, brought together by online based company Blackberry Barn. Local food producers will be available for questions while guests sample their products and stock up for Christmas. During the event you might find that special cheese from the Oxford Cheese Company, indulge in a taste of smoked trout mousse from Upton Smokeries, or try the Country Deli's delicate cakes. Many of the hand-made, locally produced foods are also turned into delicious dishes on The Black Boy Inn's menu.
With Christmas coming up, The Black Boy Inn has more treats in store. Throughout the holiday season, The Black Boy Inn will serve Christmas Party Menus starting at £20. A four-course Christmas day lunch and New Year's Eve four-course party menu will both cost £59.95.
The Black Boy Inn is in Milton, on the Milton Road, Banbury, Oxon OX15 4HH Tel: 01295, 722111. Open every day. Visit online at www.blackboyinn.com